4 Different Rallies Underway in Georgia's Capital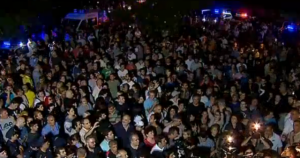 Currently, four different rallies are being held simultaneously in Tbilisi.
The protestors of all four demonstrations have their own demands.
Participants of the anti-occupation rally are expressing their protest in front of the Youth Palace (located on the Rustaveli Avenue) due to a police cordon holding them back from the parliament building where opponents of Tbilisi Pride - clerics, nationalist groups and their supporters have been holding a rally on Rustaveli Avenue since morning.
Police arranged a cordon between the two demonstrations to ensure the safety of citizens.
In addition, a rally is underway near the Rustavi 2 TV building. The participants of this demonstration demand the dismissal of Rustavi 2 anchor Giorgi Gabunia and Director General Nika Gvaramia. The new wave of demonstrations kicked off in Tbilisi after Rustavi 2 anchor Gabunia insulted Russian President Vladimir Putin during the live broadcast on July 7. The monologue, very offensive to Putin in its form and context, was read in Russian by Gabunia.
The Tbilisi Pride event, the March of Dignity, was held this evening in Tbilisi, in front of the Ministry of Internal Affairs.
The participants of the demonstration chanted "Gakharia, resign!" during the procession.
According to the organizers of the event, they wanted the March to be much more large-scale, however, the Ministry of Internal Affairs, namely, Minister Giorgi Gakharia, did not give them safety guarantees, which was the reason behind their anger.
"The violent regime should end. We want to live a decent life", the participants of the march stated.
Related story: MIA Warns Participants of Two Rallies
Photo: Rustavi2/screenshot from the video
By Ana Dumbadze
08 July 2019 20:59