The Diplomat: Can Georgia Care for its Afghan War Veterans?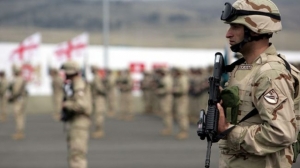 Premier international magazine The Diplomat has released an article discussing Georgia's participation in the international mission in Afghanistan.
"Georgia's wounded soldiers coming back from Afghanistan need care but they're not getting it," the publication reads.
"On the same day that US President Barack Obama broke his promise to withdraw American forces from Afghanistan, Deputy Secretary of Defense, Robert Work, was on the line with America's longtime allies there. Georgia's Minister of Defense Tina Khidasheli was eager to answer the call. Immediately after, she announced that Georgia would remain a "devoted partner" to NATO and the U.S. Despite its relatively small size, and the fact that it is not a member of the alliance, Georgia has nonetheless become the second largest troop contributor to the NATO-led Resolute Support mission in Afghanistan -with more than 850 soldiers rotated in and out on a continuous basis"
According to the magazine, amid a quickly deteriorating security situation, America's other heavy-hitting European allies, such as Germany and France, have continued to pull out their forces. "Georgian soldiers often fight in their stead. Germany has even trained a Georgian contingent to replace their own combat operations near Mazar-i-Sharif. This means that Georgian soldiers continue to go out on dangerous patrols while many of their European counterparts have placed legal restrictions on their own soldiers' ability to do so."
To read the full article click here.
23 October 2015 13:27