Georgian Foreign Minister: German Business is a Georgian Priority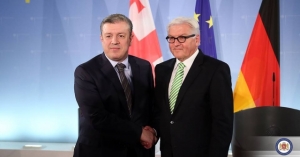 Georgia's Minister of Foreign Affairs, Giorgi Kvirikashvili, and his German counterpart , Frank-Walter Steinmeier, met in Berlin on October 28th.
As the German Foreign Minister cited after the meeting, special attention was paid to the relations, including the economic direction between the two countries.
According to Steinmeier, both the German and Georgian governments are interested in the development of German business in Georgia.
"We talked about how to develop these relations. We welcomed the joint Georgian-German business workshop participants. This is the first workshop, which takes place in Berlin. We also talked about how to strengthen economic relations and how to expand German business in Georgia," Steinmeier said.
"Bilateral cooperation, deepening of economic relations with Germany, strengthening German business and investments in the Georgian economy, are all priorities," Kvirikashvili said.
MFA Georgia says the workshop is being held in Berlin under the sponsorship of the German Foreign Ministry and German marketing agency, Deutschland - Land der Ideen.
29 October 2015 13:41