Romantic Soiree to Ultramodern Lady-Explosion, Rock&Roll and Smooth Jazz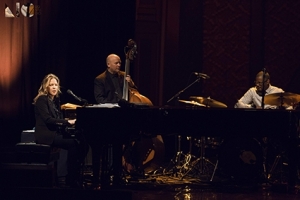 The 18th Tbilisi Jazz Festival has come to an end, having been highly attended and having satisfied the tastes of every gender, age and ethnicity.
Minister of Culture and Monument Protection, Mikheil Giorgadze, congratulated the Georgian audience at the launch of the Tbilisi Jazz Festival and promised that all would find their own favorites, most likely as the event was as colorful as ever in genre and musical dimension.
Diana Krall, the initial star of the grandiose occasion, did not fail to meet the expectations of her fans. As sparkling as ever, she offered a particularly romantic soiree with a lot of new songs and very popular tracks, including "Fly Me to the Moon", "Just the Way You Are", "Look of Love", "Temptation"… Her unique smoothly velvet voice was on for almost two hours, with three songs at encore, bringing the most tender melodies to reverberate around the Tbilisi Concert Hall, with a total sell out. The aristocrat-looking lady, with the most humble introduction, was undoubtedly the most charming of the festival, together with her artistic manner and mild style.
The next performer, 31-year-old Esperanza Spalding, was a total contrast to Krall – a lady-explosion, an ultra-modern star representing all the technique and technology that modernity can offer, together with her non-exhaustible energy and extravagant look. Esperanza gave the audience a treat of 1 hour and 15 minutes non-stop, shifting from guitar to keyboard without even taking a seat. She was enjoying her own performance so much that it easily infected the audience. It seems that she is a strong jazz-addict. "It was an absolutely natural concert. I have heard her in Paris before," said Oliko Babluani, actress, TV-presenter, former expat, daughter of famous Georgian film director Temur Babluani, exclusively told Georgia Today. "The only difference is between our and the French audience is interactivity: if we prefer to have a pose of just-observers, they are much more interactive and involved with the stage."
The third concert was on the Event Hall stage, which offers a club-like atmosphere and is meant to resemble the national jazz environment of the US. On the 26th October, the Jeff Ballard trio performed a fusion of jazz, blues and rock& roll. The critics declared it quite a rare case when musicians are on a tour with drum, sax and guitar, without bass guitar. But the experiment worked and left no real music-lover or professional indifferent. The American drummer Jeff Ballard has played with Ray Charles, Pat Metheny, and Reid Anderson. His first fascination with jazz began by listening to the joint performance of Ella Fitzgerand and Louis Armstrong.
The fourth jazz evening belonged to Avishai Cohen on the same stage on trumpet, with a duo of Yoni Zelnik on bass. And then for the surprise! Jezz Ballard appeared and made a trio with them, which gave a wonderful chance to this evening's guests to listen to both musicians on one and the same day. Trumpeter Cohen — voted a Rising Star three years running in the DownBeat Critics Poll — has earned renown as a musician with an individual sound and a questing spirit, an ever-creative player-composer open to multiple strains of jazz and active internationally as a leader, co-leader and sideman. The New York Times described him as "an assertive, accomplished trumpeter with a taste for modernism," while The Chicago Reader has deemed him as "arguably the most exciting Israeli Jazz musician in the world." Triveni, the trumpeter's current primary touring project, has been praised far and wide for its sonic telepathy, with NPR saying: "The essence of Triveni's airy sound is how, aware of one another, each player creates interesting, flowing lines and lets the space participate. Think of artists sketching and drawing together." Anzic Records releases Dark Nights, the trio's third album — and Avishai's seventh recording as a leader — in autumn 2014. The trumpeter also records and tours the world as part of the prestigious SFJAZZ Collective, the Mark Turner Quartet, and with the 3 Cohens Sextet — the hit family band with his sister, clarinetist-saxophonist Anat, and brother, saxophonist Yuval. With the 3 Cohens, Avishai has twice headlined the hallowed Village Vanguard, as well as appeared on the cover of the January 2012 issue of DownBeat.
The Festival's culmination Fourplay in fact turned out the last but one participant, as Edmar CasTaneda Trio's performance was postponed and took place on Thursday, following the veteran band's evening. Fourplay on their tour dedicated to their 25th anniversary on stage, featuring the veteran Bob James on piano, Nathan East on Bass and Vocal, Harvey Mason on Drums, another veteran, and Chuck Loeb on Guitar, is the one and only band that was rewarded by the US Congress.
The main sensation of the festival – quite a young jazzman from Colombia, Edmar Castaneda playing on the Latin harp, finalized the chief jazz event of Georgia. "Mr. CastanЮeda strummed, plucked, rubbed, jabbed and pounded on his cobalt blue Llanera harp as he conjured different shaped notes, harmonic textures and steady bass rhythms from the instrument's 34 strings. About the only thing he didn't do was light it on fire." – reads Wall St Journal. "A master of beautifully complex timing, lush colors and dynamic spirit, Edmar has been called "almost a world unto himself" -The New York Times writes.
As always, Eastern Promotion holds the high class quality and this is why they have acquired a respectable international reputation. Diana Krall, who was hesitating as her favorite FourSeasons hotel was not in Georgia, finally accepted the invitation, and that happened thanks to the great musicians who had played before, since 1996, in Tbilisi. The list comprises Ray Charles, James Brown, Tanya Maria, Al Jarreau, Bobby McFerrin, Joe Cocker, Jamiroquai, Chris Botti and many others. Good bye with the hope to see other interesting old and rising stars next year!
Maka Lomadze
29 October 2015 22:48