Renowned Saudi Visual Artist's Works to be Exhibited in Georgia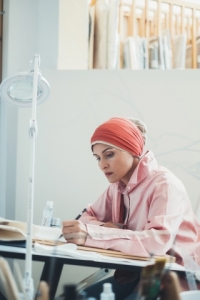 Meet Award-winning Saudi visual artist Halla bint Khalid, practicing for over 30 years in classical figurative painting and illustration, whose artworks soon will be exhibited in Georgia at the Museum of Modern Art, Tbilisi.
'Tasleemah' is the name of the exhibition, one which was conceived in an almost retrospective manner and that will introduce elements from the artist's entire body of work.
"Tasleemah" is an Arabic expression for greeting and is also a female personal name, rich with connotations: submission, peace and resignation. By means of an introduction, or "salutation" into the work of bint Khalid, 'Tasleemah' serves as a testimony to her ability, almost uncanny, to steer with art through uncertainty and discontent, revealing in the end the forceful strength of a vital language. Similarly, the conceptual unity of the artist's work, presented in 'Tasleemah' even after decades of constant transformation, bears witness to her perennial commitment to formal expression.
The exhibition is supported by the Saudi Ministry of Culture and the King Abdulaziz Center for World Culture (Ithra), and a catalog will be produced for the occasion of the exhibition with texts by curator Basak Senova and art critic Arie Amaya-Akkermans. As the first presentation of a Saudi artist in a museum of the region, "Tasleemah" represents also a new generation of exchanges and conversations between the Middle East and its borderlines, dislocating the notion of culture from national identities and embedding it in larger questions about the role of artistic production in times of global crisis. The exhibition attempts also to shed light on a more intimate and informed portrayal of the life of women in the Middle East, and therefore, will be shaped as well by the reception on the part of the audience.
Halla started her career as a fine artist. Today, she is a successful children's author and illustrator. Each work, regardless of the purpose for which it was created, is executed with sensitivity and tenderness.
What are the artist's expectations towards the exhibition scheduled in Tbilisi? How is the artistic world of Saudi Arabia developing and what are the challenges of being an artist there? Let's find out.
Traditionally, girls from Saudi families are expected and predicted to become a doctor or teacher. What was the main inspiration behind your choice to become an artist? How did it all start?
The statehood of Saudi Arabia is only 86 years old, built on a tribal system in which girls are expected to become dutiful wives and mothers. A girl who chooses a career over marriage is considered a dangerous rebel. If you look at women in Europe and America in the 1940s and 50s, their duties were similar. However, roles and expectations are quickly changing in Saudi Arabia today as it competes with the 21st century.
I was born in 1971, and during my childhood and teen years there were no Saudi female teachers, and I had the opportunity to meet only one Saudi female doctor, who was a dentist. I didn't really want to be looking at teeth for the rest of my life.
I think a number of factors turned me into an artist. Firstly, both my parents have an eye for design and color, so I was privileged to grow up surrounded by beautiful things. They also loved to travel to Europe and America, and being their only child, the only way they could think to entertain me was to send me off with my nanny to museums and bookshops by day, and to plays and the ballet by night. Furthermore, during my childhood, self-expression was not encouraged - in art I could speak, and sing, and dance almost as much as I liked.
How would you describe your art? What are the main themes you have worked on all your life? What is the main purpose you serve through it?
Hmmm…I don't really know how define my art, because I am always moving and changing. I like to find beauty and inspiration in unexpected places. If you study the tones and hews of something as simple as an onion skin, you will experience a sense of wonder.
I hope to give viewers and readers something that sparks their interest, or makes them feel like they have been caressed, or even tickled.
What were the challenges of being an artist in Saudi Arabia? Tell us a little about the art movement and development in Saudi Arabia today.
When I was growing up, the very idea of art was considered frivolous and even improper. Much to the delight and relief of most members of Saudi society, this has changed due to the timely 2030 vision put out by our current crown prince. However, we still have a great shortage of museums, art supplies, live models, art education in schools, and a serious art academy.
Children's illustration and the world of children occupies a big place in your artistic work. What drew you to it and what is the main motivation for you while working on illustrations for children's books?
If you take away my paintbrushes, you take away my wings. After the birth of my children, I was no longer able to spend hours and hours in the seclusion of my studio. Motherhood is a 24/7 job. I wanted to continue expressing through art with messages to my own children. In other words, having children simply changed the direction of my imagination. I could be developing a new story for my son whilst washing his hair, and illustrating pictures for my daughter while helping her solve a math problem.
We know that violations of women's rights remain as an issue in your country. What is it like to be a Saudi woman today and how do you, along with like-minded women, challenge the mentality?
Here are some facts: The first school for girls in Saudi Arabia was established in 1955. In 2012, Saudi girls entered the Olympics. In 2013 women were given seats in the Shura council, allowed for the first time to work as sales girls and cashiers, issued national IDs and a law was passed that criminalized domestic violence.
In 2014, we saw Saudi's first female lawyer. In 2018, women were finally allowed to drive and in 2019 women above the age of 21 no longer need the consent of a male guardian to travel and have the right to register births, marriages and divorces and to be guardians to minors. In short, there IS progress. I am lucky to be alive during this period of great progress, and enormously blessed to have an exceptionally supportive and loving father, who is a great visionary and made substantial contributions to Saudi Arabia in his own right.
Can you explain the role of gender discrimination in your work?
In the Saudi Arabia I grew up in, women were not supposed to be seen or heard. As a result, I sometimes find myself inadvertently complying with the patriarchal stamp in my brain. In 2009, I wrote my yet unpublished story "Qismah wa Naseeb". After I finished the first draft, I was horrified to see that in the entire story, there were only two females; a submissive, subservient little girl and a helpless old woman. In another situation, I had created 13 camels to represent my country's 13 governorates. Again, all the camels were males. I had to look in the mirror and ask myself why I did this and if I wanted to continue this pattern.
In 2019, you created a wide-ranging contemporary work, the ongoing series "A Wife is... A Husband Is", depicting everyday objects from the life of modern men and women. What were the main messages and goal of these works?
There has been a great shift in both the country and my life. I now feel at liberty to express what I have always felt; that too often, marriage is a sort of business deal and not the union of two people who respect and love each other. Notice, I put 'respect' first. In so many marriages, the relationship is built on a set of duties and chores which each partner expects of the other. It's almost as if compassion is counterproductive in this situation.
You must have quite a busy schedule, according to the number of artworks you created in various directions. Tell us more about your life behind work, your aspirations and hobbies.
For me, art is neither my hobby nor my work, it's how I breathe. My work was to get through school and university, get married, have five children, take care of my children and my parents, and still breathe. Art is what defines me.
Your artworks are coming to Georgia. You will personally attend the opening of the exhibition. What are your impressions and expectations?
I think I am the first Saudi artist to be given this opportunity. I am grateful that the Zurab Tsereteli MOMA has enabled me to showcase my work. I hope that the people of Georgia will find their visit to the exhibition an enjoyable and enriching one. I am looking forwards to meeting them, and hearing their comments and impressions.
Tell us about the exhibition and artworks.
The exhibition is a retrospective of my life's work. It displays aspects of Saudi culture and heritage, a selection of the books I made for children and my recent artistic commentary on gender roles.
What are your future plans?
Mainly to find new challenges, explore new ways of artistic expression, and meet people that will expand my vision.
The exhibition at the Museum of Modern Art Tbilisi will last from November 4 to January 12.
Photographer: Abdullah Al Musharraf
By Ana Dumbadze
31 October 2019 20:21