Georgian National Film Center to Fund 'And Then We Danced' Actors' Trip to Oscars Ceremony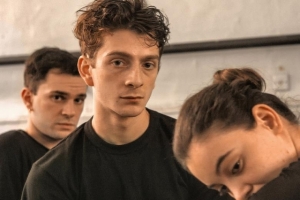 The Georgian National Film Center welcomes the presentation of Levan Akin's film 'And Then We Danced,' a Swedish-Georgian-French co-production, in the category of International Film Academy of American Cinema and has joined the Oscars and Golden Globe campaigns. The National Film Center states they will fund the trip to Los Angeles for the film's two main actors - Levan Gelbakhian and Bachi Valishvili - for the Oscars.
The Film Center believes that the cast of actors in of great value to the film, especially as Levan Gelbakhian has garnered numerous international accolades for being a top male actor. The National Film Center paid GEL 12,500.00 in May this year to allow six members of the creative team (Gelbakhiani, Valishvili, Keti Danelia, Nino Jincharadze, Ana Javakhishvili, and Giorgi Tsereteli) to participate in the Cannes Film Festival's program "Directors' Fortnightly".
The premiere of 'And Then We Danced' was held at the Cannes Film Festival this year. The film took seventh place among the 10 best films of the festival. The film, set in Georgia, tells the story of a young male dancer in Tbilisi who is training to join the National Georgian Ballet. He develops feelings for his fellow male dancer, who is his rival for a spot in the ballet.
More than 20 countries have already purchased the film's showcase. Georgians will be able to watch the movie in Georgian cinemas from November 8.
By Mariam Merabishvili
01 November 2019 15:44