Archpriest Jagmaidze Claims the Film about Gay Love Undermines Georgian Values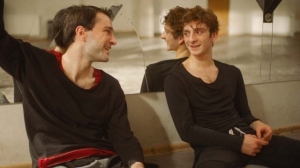 Head of the Patriarchate's Public Relations Service, Andria Jagmaidze, laid out his concerns about the internationally acclaimed and and soon to be released in Georgia movie "And Then We Danced".
"In the near future, the Georgian movie theaters will be screening a film about the love of a gay couple- yet another attempt to undermine Christian values in our society. The Church objects to this fervently. This will probably become a reason for further attacks on the Church. Be that as it may, we believe the Church must always fight to amend misjudgements," claims Jagmaidze.
Sandro Bregadze, one of the leaders of the "Georgian March", declared at a press conference that he would fight the screening of the Georgian-Swedish drama film in Georgia. He appealed to the Patriarchate for assistance and called for a clear opinion on the matter. "Georgian March will be mobilized at Amirani Cinema on November 8 to show disapproval of the screening event," says Bregadze.
The movie will be screened in Georgian cinemas for three days only- November 8, 9 and 10. All tickets have already been sold out. There are several thousand spectators expected to show up in Tbilisi and Batumi.
By Elene Dzebisashvili
05 November 2019 12:44