Fabrika on the Map of European Cultural Centers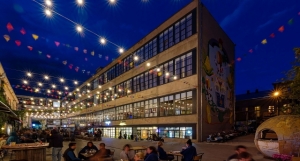 Fabrika Tbilisi has recently become the full member of the cultural centers' network – Trans Europe Halles!

Trans Europe Halles (TEH) is a European network of independent cultural centers initiated by citizens and artists. Founded in 1983, it currently brings together more than 110 multidisciplinary cultural centers and other cultural organizations from across Europe. These facilities have all taken important action to challenge the established cultural policy.
TEH aims to strengthen the sustainable development of cultural centers and encourage new initiatives by connecting, supporting and promoting them.

Now that Fabrika – the favorite get-together place for Tbilisians and the capital's visitors -is a full member of TEH, the Georgian cultural center has the opportunity and chance to learn from the stories and processes that 25+ years old or 40,000+ sq.m cultural centers had experienced.
"We believe that bringing these experiences to our hometown will foster the impact and importance of cultural centers in Georgia" reports the team behind Fabrika Tbilisi.
By Nini Dakhundaridze

Image source: Fabrika Tbilisi website.
12 November 2019 13:23