Director of Georgian Film Shindisi Awarded at Asian World Film Fest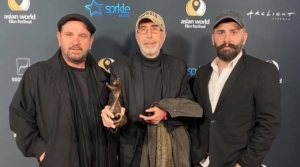 Dimitri Tsintsadze, director of Georgia's Oscar-nominated film Shindisi, has won the Best Director award at the Asian World Film Festival (AWFF) held in Los Angeles, Hollywood, between 6-14 November, the Georgian National Film Center reports.
"All films that participate in the festival have a unique chance to be guided through the challenging awards season, and showcased to members of the Motion Picture Academy, the Hollywood Foreign Press Association and all guilds for enhanced exposure, media attention and awards consideration," AWFF says.
The Asian World Film Festival, founded by Kyrgyz public figure Sadyk Sher-Niyaz, brings the best of a broad selection of Asian World cinema to Los Angeles to draw greater recognition to the region's wealth of filmmakers and strengthen ties between the Asian and Hollywood film industries.
Shindisi is a 2019 Georgian drama film. It was screened at the 2019 Shanghai International Film Festival. It was selected as the Georgian entry for the Best International Feature Film at the 92nd Academy Awards. It won the Grand Prix at the 35th Warsaw International Film Festival in 2019.
The plot of the patriotic movie is based on the real story of the Shindisi battle from the Russo-Georgian war in the summer of 2008. During the Shindisi battle, 17 Georgian soldiers lost their lives.

Actors Goga Pipinashvili and Dato Bakhtadze play the leading roles in the film.
On October 15, the Hollywood Reporter published a review of Dito Tsintsadze's Shindisi, calling it "a model of quietly powerful filmmaking".
By Ana Dumbadze
15 November 2019 13:23