Meet the Creative Mind behind the Soundtrack of Tbilisi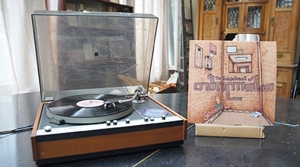 Exclusive interview
In September, GEORGIA TODAY reported on a new record that had been released on the market: The Soundtrack of Tbilisi, compiling 42 minutes of contemporary music from 11 Georgian artists. Each of them brought their own musical universe in a mix that captures the vibe of this fast-changing city, made of both sharp dissonances and subtle harmonies. The record is the basis for a 2020 documentary by the same name, which will also put together the work of different Georgian filmmakers. GEORGIA TODAY met with the director, Magnus Lorenz, from Germany, and the artist behind the vinyl cover Natia Benashvili to learn more about this innovative project.
"It has been almost 10 years that I'm linked to Georgia," Lorenz tells us. "I first did a volunteering service working as a German language assistant in the 21st Public School and then I kept coming back again and again. I just recently finished my master's degree in documentary filmmaking in Romania. My dissertation project was partly about Tbilisi and the music scene here, so I was just waiting to finish my studies to come back and start filming. The documentary is planned for 2020. At the same time, I will be working with the Youth Association DRONI, mostly doing audio visual public relations and implementing my own projects like for example the Europa Photo Marathon on November 30. DRONI provides non-formal trainings and workshops, human rights education and youth development programs in Georgia, so it is a good combination as it will likely offer me access to new themes that might also be interesting for the documentary film.
Where did your interest in the Georgian music scene initially come from?
It started from the very beginning actually. During my volunteering service here, I was in touch with the AlterVision group, which organized the Tbilisi Open Air. This is how I discovered many local musicians and bands. Then, during my studies in Germany, I was working for a student radio and made several shows, including one especially about the Georgian music scene. At first, I was focused on the techno scene from a distance. Electronic music here is indeed trendy and widespread; many musicians have turned to deejaying or production; it's a more sustainable job, the demand is high for DJs and it's cheaper for clubs than hiring a band. This means a lot of bands don't have enough opportunities to play live, so they sometimes lack practice and experience. But then when traveling here, I realized that there were many more genres flourishing in Tbilisi and I decided to widen the scope of my musical project.
How did the musicians welcome the project?
They were all very enthusiastic about having one of their tracks put on a vinyl, as they know that the Georgian music scene is not so popular abroad. Two of the participants, Lua, the winner of the Georgia's Newcomer Award and the women's choir Ialoni actually created brand new songs especially for the album.
You said during the launch on August 29th that the film will be based on the soundtrack; can you tell us a little more?
Although we took the production process upside down by starting with the soundtrack, this was a great incentive for people to get on board and trust the project. Both the vinyl and the film have the same conceptual idea; the soundtrack is a music compilation of 11 musicians, and the documentary will be a collaboration of different filmmakers coming together, making different films about different topics in Tbilisi. I already met with several Georgian filmmakers during my studies in Romania when I organized a visit to Tbilisi for the CineDOC International Documentary Film Festival. The documentary will be fully produced in Georgia; it's a low- budget production at the moment, but we are planning to apply for grants and funds once we have the collective together.
Speaking about funding, your project is a good example of a successful crowdfunding campaign!
Well, I wrote my thesis about crowdfunding campaigns for film productions. First, you need to convince your friends, your family, but to make it successful you have to reach people outside of your immediate circle. It was a lot of work and preparation to explain to people the idea of crowdfunding, but we made it! We started in October 2018 and we reached the goal of 5000€ in two months, which is still a pretty low budget when you take into consideration all the costs related to mastering, mixing, art design, shipping, website. Actually, the soviet elevator on the cover represents the idea of crowdfunding itself: if you want to go up to the next floor you have to put in some Tetri, which at the end helps to pay the electricity bill for the whole building. It's all about small contributions for a greater goal, exactly like a crowdfunding campaign!
During the release party, the bar was literally packed, and there were still people outside waiting to get in. From the launch to the end result, and everything in between, it seems your project has attracted lots of interest and support.
Lucky us, everything went fine! With all the ups and downs, it is still such an enjoyable experience; I always wanted to produce a vinyl, and a film, and this is finally happening! What makes it even cooler is that I get to do it in Georgia, after 10 years of constant traveling and stays. The goal was to produce something authentic, and of course you can always do more, add more artists and so on, but ultimately I think we made a pretty inclusive selection.
The record is released in a very limited edition and only 100 copies are available for free sale. Copies can be purchased in the two branches of Dodo Beach Records in Berlin, and in Vodkast Record Store and Black Dog Shop in Tbilisi. If you want to get more updates about the film you can visit us on our new website www.soundtrack.ge.
By Lorraine Vaney
21 November 2019 17:02