German DJ Dixon To Play in Tbilisi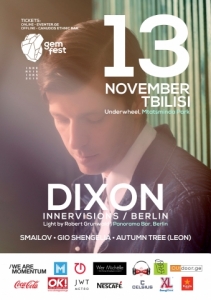 German DJ and electronic music producer Steffen Berkhahn, better known by his stage name Dixon, will visit Tbilisi.
On November 13th, the German DJ will perform with Georgian DJs Autumn Tree, Gio Shengelia and Ukrainian DJ Smailov at the Underwheel Club in Tbilisi.
As nightlife in Berlin started to grow after the collapse of the Berlin wall in 1989, Dixon realized it wasn't long until he would make his own impression on the scene. Dixon was soon asked to play at Tresor Club in Berlin, after which he was snapped up by WMF, giving him his first proper residency.
Several years later, in 2005, Dixon co-founded the prestigious Innervisions label with fellow producers Frank Wiedemann and Kristian Beyer (Âme). Being part of such a unique label for so many years has given him the chance to play at impressive venues across the globe – DC-10, Sankeys, Batofar and Berlin's very own Panorama Bar.
In 2013 and 2014, the readers of the online electronic music magazine, Resident Advisor, named Dixon number 1 DJ of the year.
Schedule for November 13th:
22:00 Gio Shengelia
00:30 Autumn Tree (Leon)
02:00 Dixon
04- end Smailov
09 November 2015 17:29