Metal Music Fest at Night Office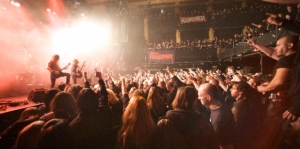 Night Office club invites you to the Georgian Metal Music night which will take place for the third time on November 14th.
Metal lovers will be able to listen to famous and popular metal bands such as: X-MACHINE -thrash metal; VxPxOxAxAxWxAxMxC -Goregrind/Slamdeath; Tanelorn - Melodic Death Metal.; Signs - symphonic black metal; Perfect Strangers P.S - Progresive Rock / Stoner Metal; xResistenciAx - Post Soviet HardCore; OmophoR - experimental melodic death metal; Vox Inhumana- Depressive Suicidal Black Metal; VRIL YA- thrash metal; and others.
The price: 15 GEL. Address: Under The Nikoloz Baratashvili Bridge. The event will start at 17:00.p.m.
Nina Ioseliani
09 November 2015 17:58