After Hours with King David the Builder's Coin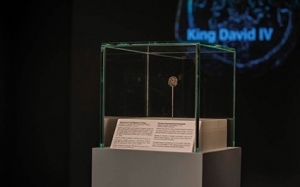 Since September, within the frames of the UK/Georgia Season 2019, the unique David the Builder's Coin has been on loan from the British Museum collection. In addition to the exhibition closing on Sunday, December 15 at the Simon Janashia Museum, the British Embassy in Georgia, British Council and the Georgian National Museum has one more pleasant surprise for Georgian society.
On Friday the 13th the doors of the Museum of Georgia will be thrown open for all visitors to come in, for free, from 18:00 to 21:00. This special after-hours experience with the unique coin will be enriched with educational programs for kids and young actors bringing the historic era of David the Builder to live.
The coin, preserved in the British Museum Collection, has been loaned to Georgia as a result of many years of cooperation between the British Embassy, the British Council and the Georgian National Museum. The copper coin preserved at the British Museum is the most important among the coins minted by King David IV of Georgia. There is no doubt that the inscription on the coin reflects the major line of Georgia's foreign policy at the time - obverse shows Kind David IV dressed in Byzantine imperial attire, wearing stemma, and holding a Globus cruciger. The accompanying inscription in Georgian refers to him simply as King David. On the reverse is an invocation in Georgian surrounding a cross, listing the extent of David's kingdom: 'Lord, aid David, king of Abkhazians, Kartvelians, Rans, Kakhs, Armenians'.
The closing of the legendary coin's exhibition will be the completion of the first-ever UK/Georgia Season.
UK/Georgia 2019 season took off in September 2019 and included over 60 events jointly presented by the British Embassy in Tbilisi and the British Council in Georgia The Season events were held in Tbilisi, Batumi, Kutaisi and other locations across Georgia showcasing the best of modern, diverse and global Britain.
The programme drew on the shared values of the UK and Georgia with a specific focus on diversity and inclusion. Special thanks to all UK/Georgia founding partners: Georgia Capital, Bank of Georgia, BP, Adjara Group and Wissol for helping us deliver the Season.

#VisitMuseum on December 13 between 18:00 - 21:00. The last visitor will be allowed at 20:30.
Attendance at the event is free of charge!

By Nini Dakhundaridze
13 December 2019 12:52