Georgia's Art Palace among European Museum of the Year Award Nominees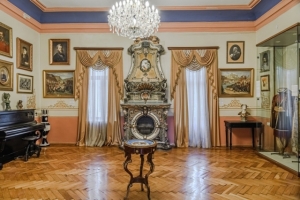 The European Museum Forum (EMF), which has been awarding the most prestigious European Museum Award (EMYA) every year since 1977 for outstanding, courageous and innovative exhibition concepts, has shortlisted the Tbilisi-based Art Palace as one of the nominees for the year 2020.
The Art Palace museum is one of Tbilisi's stand-out venues due to its Gothic architecture and splendid styling. The museum, commissioned by the German Prince in the late 19th century as a present to his Georgian lover, was picked for the nominee list that involves new or recently renovated venues, including the Hexenmuseum Museum in Switzerland, the Museum of Secret Surveillance in Albania and the Pentala Archipelago Museum in Finland.
EMYA has brought to center-stage a myriad of small museums with distinguished cutting-edge content, which otherwise would not have received recognition at the European level. Within the EMYA scheme, all museums are equal whether public or private, small or large.
"EMF works within an overall framework of a commitment to citizenship, democracy and human rights, to bridging cultures and social and political borders, and to sustainability. The different awards within the EMYA scheme reflect, represent, and emphasise different aspects and dimensions of these values", reads the EMYA website.
Art Palace qualified for the EMYA nomination through its major renovation in 2014, which saw the venue's individual, themed halls revitalized along with wall paintings restored with historical accuracy. The museum houses exhibits ranging from 16th century Persian miniatures, French engravings, the works by 20th century Georgian painters to costumes from cinema and stage productions.
This vital depository of Georgian cultural heritage is home for more than 300,000 objects that provide comprehensive information on the unfolding of Georgian theater, cinema, circus, folklore, opera and ballet. Included in the museum's exhibition are works by 20th Century modernist painter Petre Otskheli (1907-1937), whose modernist style and constant experimentation in painting earned him a lasting legacy in Georgian theater design.
The EMYA awarding ceremony will be hosted by the National Museum Wales in Cardiff, from 29 April to 2 May 2020.
By Elene Dzebisashvili
17 December 2019 12:12