Henryk Hryniewski Exhibition and Book Presentation at the Sighnaghi Museum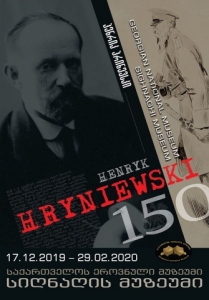 Sighnaghi Museum hosted the opening of a Henryk Hryniewski exhibition and a book presentation about the artist. The event was presented by the National Museum of Georgia.

The exhibition and book are dedicated to the 150th anniversary of Henryk Hrvniewsky, a Polish-Georgian artist.

Henryk Hryniewski was a descendant of Polish immigrants living in Georgia, whose name is intrinsic to modern Georgian art. He was the first illustrator of Ilia Chavchavadze's works (1914), along with Anatoly Kalgin, author of the Nobles' Land Bank project, and also the author of interior and façade decorations of the building, one of the founders of the Tbilisi State Academy of Arts and a professor of the Academy since 1937. Henryk Hryniewski participated in expeditions of Georgian architecture studies in 1910-1920 and made many sketches of monuments and their architectural décor, which today have artistic and historical value.

Henryk Hryniewski fell victim to the Stalinist repressions of the 1930s. He was shot in 1938 on charges of espionage. The location of his grave is unknown to this day.

Sighnaghi Museum displays the works of Henryk Hryniewski preserved at the Georgian National Museum collection.
The presentation of Eka Kiknadze's book "Henryk Hryniewski" was held. The book combines the research of Hryniewski's life and work, artworks in various museums and private collections, and archival material, many of which will be published for the first time.
The book was published with the support of the Ministry of Education, Science, Culture, and Sport of Georgia and the Polish Institute in Tbilisi.

Attendance at the event is free of charge! The exhibition will be open until February 29, 2020.

By Nini Dakhundaridze
17 December 2019 14:10