US Congress Now Giving Weapons to Ukraine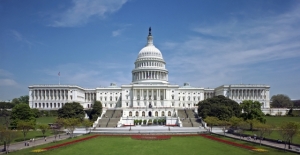 Ukraine could now be provided with lethal weapons according to a recently passed bill in the United States. "Congress has passed a defense policy bill that authorizes up to $50 million in lethal military aid for Ukraine and mandates a White House response if Russia is deemed to be violated a key arms control treaty," Radio Free Europe reports.
According to their source, the White House stated hours after the $607 billion bill was passed by the senate on November 10th that President Barack Obama was likely to sign the legislation.
Among other things the package appropriated $300 million to help Ukraine in its fight against Russian-backed separatists. That includes $50 million for lethal weaponry such as anti-armor weapon systems, mortars, grenade launchers, small arms and ammunition.
The Obama administration has previously resisted calls to provide Ukraine with lethal aid, fearing it would provoke Russia. The legislation also sets a deadline for the administration to tell Congress whether Russia continues to be in violation of the intermediate-range Nuclear Forces treaty, which eliminated an entire class of nuclear-capable missiles from Europe in the late 1980's.
The State Department's most recent arms control report, released in June, stated that Russia was testing a missile system that violated the treaty. Moscow, for its part, has denied the allegations and accused the United States of deploying banned weapons systems.
The legislation also includes $715 million for Iraqi forces battling Islamic State militants.
Source: http://www.rferl.org/content/us-ukraine-russia-lethal-aid-bill/27356526.html
11 November 2015 14:32