Georgian President Not Leaving Avlabari Residence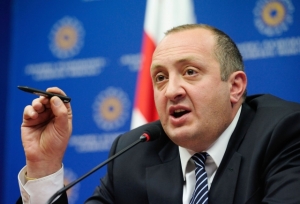 The Georgian Government has urged President Giorgi Margvelashvili to move out of the Avlabari presidential palace into the specially designed building on Atoneli Street in Tbilisi.
Minister of Economy Dimitri Kumsishvili stated on Monday that finances are being spent on maintaining the refurbished residence and that the president should decide soon what he is going to do.
Kakha Kozhoridze, the President's Adviser, stated that the President has no intention of changing his decision about the Atoneli residence.
"About a year and a half ago, we sent an official letter to the government stating that the President doesn't plan to move out and he hasn't changed this decison," Kozhoridze declared.
According to the Adviser, the cabinet have to decide the fate of the Atoneli Residence.
President Margvelashvili infuriated Bidzina Ivanishvili, a billionaire accused of ruling the government and country from backstage, by moving out of the government office into the palace in Avlabari, constructed by his predecessor Mikheil Saakashvili.
Ivanishvili has often chastised Margvelashvili for neglecting his position and refusing to leave his current residence.
11 November 2015 14:45