Federica Mogherini: EU Challenges Should Not Hinder Eastern Partnership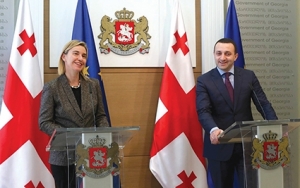 Frederica Mogherini, High Representative for Foreign Affairs and Security Policy/Vice-President of the European Commission, visited Tbilisi Tuesday as part of a broader tour of the partner countries in the Eastern Partnership.
Opening the "Achieving Gender Equality" International conference held in Tbilisi on November 11, Mogherini stated, "A lot of women are in this room, but also there are a lot of men. We have gathered here because we believe in Gender equality and we believe we will change the situation."
Mogherini cited that gender equality is not only a moral obligation or social status adding, "Granting women and men the same rights enriches our society and makes it safer. It is an issue of development. Strong women bring many benefits to society. It is easier to overcome economic and social barriers when women are strong and they are recognized as equal citizens in the community. This is part of the sustainability of our society."
The EU's Chef Diplomat discussed some strategic issues of Georgian-EU relations at a face-to-face meeting with Georgia's Prime Minister Irakli Garibashvili. The agenda of the official meeting included bilateral cooperation priorities, the implementation of the Association Agreement and the importance of the completion of the visa liberalization process.
Garibashvili stressed that the successful completion of the visa dialogue with the EU is a top priority on the agenda of cooperation. He said the government has tried its best to fulfil all the requirements of the Visa Liberalization Action Plan.
According to the Prime Minister, the high-ranking visit clearly confirms the EU's strong support of Georgia's European choice and reflects the unique relationship that Georgia and the EU have already established in the form of political association and economic integration.
The Georgian PM emphasized that the second session of the EU-Georgia Association Council on November 16 in Brussels will enable [them] to summarize the process at the highest political level, the progress, which [they] have achieved in a short time. "We will prepare a basis for new achievements and initiatives."
Mogherini herself emphasized that Georgia has fulfilled many significant obligations and should keep on the same path in order to receive positive recommendations at the end of the year in terms of visa liberalization. Mogherini said that, despite the fact the EU was facing a great deal of challenges, "these problems would not hinder the importance of the EU's relationship with Eastern European countries."
Parliament Speaker Davit Usupashvili also met with Federica Mogherini. Usupashvili thanked the EU diplomat for visiting Georgia, saying he hopes for more advice that will help move Georgia closer to Europe. According to Usupashvili, when it comes to Georgia's Euro-Atlantic integration, Parliament is working as a team.
During the visit, Federica Mogherini also met with the Georgian President Giorgi Margvelashvili, Foreign Minister Giorgi Kvirikashvili and leaders of parliamentary factions and civil society.
Steven Jones
12 November 2015 22:08