Slovakian PM: Slovakia Fully Supports Georgia's Euro-Atlantic Path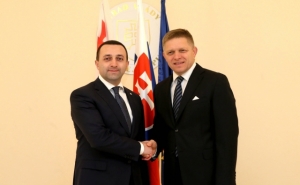 Georgian Prime Minister, Irakli Garibashvili, met with his Slovakian counterpart, Robert Fico, yesterday.

The meeting involved an official ceremony at Robert Fico's residence, and was held in the Slovakian capital, Bratislava.
The Governmental administration of Georgia says, the parties put an emphasis on expanding trade-economic relations between the two countries.
One of the main topics of the meeting was the European and Euro-Atlantic integration processes of Georgia. As Irakli Garibashvili underlined, Slovakia's support towards Georgia's European path needs to be valued, along with Robert Fico's personal contribution to deepening ties with Georgia through means of political association and economic integration.
Fico confirmed Slovakia's unwavering support for Georgia's European and Euro-Atlantic path, stating Georgia's visa-liberalization discussion should be completed in time.

"Georgia has made its choice and aspires to integrate with the EU and NATO. Slovakia fully supports Georgia in this respect. I would like you to know that our voice will always be in favor of you," the Slovakian PM declared.

According to the Georgian PM, Georgians are absolutely sure that their future is in Europe.

"The European future is a choice of the Georgian people and the government is obliged to respect and implement it. We are ready to follow the path leading us to Europe," Garibashvili said.
The parties have also discussed regional security issues, as well as the necessity of maintaining the EU monitoring mission and its mandate in Georgia.
The head of the Slovakian government expressed his support towards Georgia's territorial integrity and sovereignty.
14 November 2015 16:21