Classic Georgian Film Screened at Black Nights Film Festival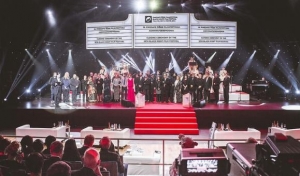 The 19th annual Tallinn Black Nights Film Festival was held on November 13th in the Estonian capital, Tallinn, at the Nordea Concert Hall.
The event opened with the traditional Black Carpet ceremony, and ended with the screening of the Georgian silent film, My Grandmother (Chemi Bebia in Georgian).
The film was directed by, Georgian actor, director, and cartoonist, Kote Miqaberidze.
The film was forbidden for 40 years, until it was restored in 1976 by Leila Gordeladze. Qajeti (1937), and Zuriko and Muriko (1952), are Miqaberidze's films as well.
Miqaberidze died on January 9th, 1973, in Tbilisi.
The film was accompanied by the Georgian Philharmonic Orchestra, with its revered conductor, Nikoloz Rachveli, which was invited especially for the evening.
"The film is truly grotesque from the soviet eccentric cinema of the 1920s. Inspiring background music will make you dance Charleston in a soviet style, while the story of the film's most memorable character, the wide-eyed and shock-headed woman officer, whose lavishing bourgeois lifestyle unfolds in front of you," reads Poff.ee
Nina Ioseliani
14 November 2015 16:48