Forbes on Tbilisi: Leading Destination for Culture and Gastronomy Lovers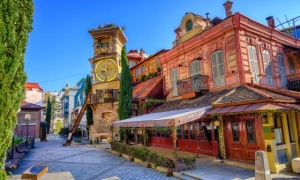 Georgia's capital Tbilisi has been voted as the third trendiest European destination for 2020, chosen from 20 'must-see' locations competing for the coveted title organized by European Best Destinations (EBD).
More than 600,000 people voted in the competition. The list will now be promoted throughout the year to millions of travelers, with the right for the winners to display the title 'European Best Destination' in their marketing.
Taking third place after Colmar (France) and Athens (Greece), Tbilisi is thus described in the Forbes article:
"The Capital of Georgia is the ideal destination for culture, gastronomy, diversity and architecture lovers. Magnificent Haussmannian buildings mingle with structures dating from the Middle Ages. You can enjoy neo-classical, Soviet and extremely modern buildings — at the same time. Be sure to climb to the top of Tbilisi and admire the Kartlis Deda statue, the protector of the city. This site offers an exceptional panorama of the Georgian capital, the Peace Bridge, the Metekhi Church, the thermal baths, the new theatre and the Mtatsminda Amusement Park for young and old."
Travel website European Best Destinations (EBD) has been promoting culture and tourism in Europe since 2009, simultaneously cooperating with more than 300 European tourist companies.
"As a result of their (EBD's) selection, the various destinations get a significant boom of tourists: +17% in growth for Porto after its selection in 2017, +13% for Bordeaux in 2015, +25% for Zadar in 2016, as well as extensive media coverage", reads the article.
Georgia's transformation in the tourism sector has been staggering. Georgia welcomed less than 100,000 tourists at the end of the 1990s; this year the country expects more that 9 million visitors.
19 February 2020 13:25