Tbilisi Fashion Week Raises Money for Local Organizations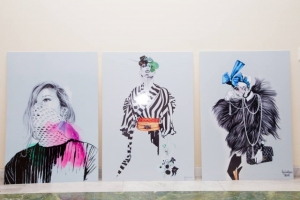 Esben Emborg, The Norwegian Embassy and the founder of Tbilisi Fashion Week, Tako Chelidze, celebrated the outcome of a successful joint exhibition of Nordic Fashion Illustrations in connection with Tbilisi Fashion Week, which was held at MOMA-Tbilisi.
The event was attended by beneficiary organizations, Director of First Step Georgia, Tamuna Zaalishvili, and Director of Dog Organization Georgia's (D.O.G.), Fiona Coxshall.
D.O.G. was established to assist with Tbilisi's stray dog problem. The organization is financed and supported by private donations and volunteers.
Part of the money raised from this event will go towards repairing the infrastructure of the shelter. The D.O.G shelter, located next to Lisi Lake, continues to find homes for dogs in and out of Georgia, which will hopefully become their forever homes. D.O.G. is also helping to reduce the population of street dogs by implementing a Tag, Neuter and Release program.
First Step Georgia helps children with mental and physical disabilities in Didi Digomi in Tbilisi, as well as in other cities. The remainder of the money raised will be invested in repairing the roof of the daycare center, as well as in the kitchen which serves more than 40 children and care givers daily.
Nina Ioseliani
16 November 2015 21:01