Tony Blair Visits Georgia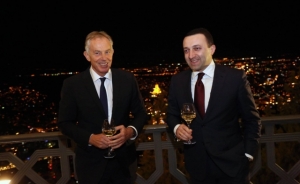 Georgian Prime Minister Irakli Garibashvili hosted the former Prime Minister of Great Britain, Tony Blair.
The government's press service stated that, Blair visited Tbilisi yesterday evening to meet with Garibashvili.
According to the statements, the main topics discussed were, democratic reforms in Georgia, as well as the current situation in the world and the region. Blair and Garibashvili visited the Tbilisi Funicular and enjoyed the views of the city.
After the meeting, Tony Blair left Georgia.
19 November 2015 14:31