R.O x Konoba to Play Georgia Again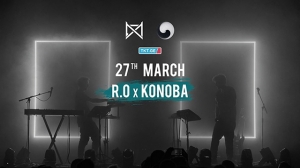 Our last live show in Tbilisi was unforgettable. While performing our song 'On Our Knees', we felt an emotion coming from the audience that we haven't felt in any other country in the world. We'd very much like to thank the Georgians for this, - the members of the duo R. O x Konoba said about Georgia. So it's pretty clear, why, then, the duo is returning to perform in Georgia for the fourth time.
In 2020, R.O. x Konoba will perform in Tbilisi's MONO HALL on March 27.
R.O x Konoba is a musical duo founded in Brussels, known for their alternative sound. Their music is a miscellaneous collection of sounds from instruments, machines, dreams and realities, melancholic vocal and pop melodies.
R.O and Konoba are one of those duos in the contemporary music world that actually compliment and complete each other. R.O is a producer who's been making music since he was 13. He has succeeded in becoming an expert of sound manipulation and blending future hip hop, soul and bass music. Konoba, whose real name is Raphael Esterhazy, spent five years in the UK learning music production. Then he headed back to his native Belgium to launch a career as Konoba. While the duo did just fine in their solo careers, together as it turned out they work the best: their hit song On Our Knees was quick to reach 600,000 views on YouTube and now its official video has over 40 million views on the website. They've been collaborating since they met in 2015. The duo's tune 'Get Home', a joyous mix of modern electro pop, came after On Our Knees and rose to popularity just as much.
They recently completed the 10 Project. The idea was simple: the duo travelled for 10 months to 10 different countries, making one track in each of the countries. Composing and producing on the go, R.O x Konoba also collaborated with local filmmakers, making a video for each track that showcased their journey and the country they were traveling to. It was a win-win: while this proved to be a great marketing piece for each of these countries, the duo winded up creating an album of various styles and influences. The 10 Project cemented their place on the modern electro music scene.
Georgia was one of the countries they filmed in their video clips in, for the song called 'Roll the Dice', and it was greeted with outstanding cheer at Tbilisi Open Air in the summer of 2018, when the duo performed the track, awakening patriotic sentiments in the audience.
The duo first came to Georgia in 2017. The first and the upcoming show in March were both organized my Movement the event planner organization in Georgia.
Tickets currently costing 40 GEL can be found online at tkt.ge. Minors under 16 are allowed with adult supervision.
By Nini Dakhundaridze
12 March 2020 19:04