IFC Supports Green Housing in Georgia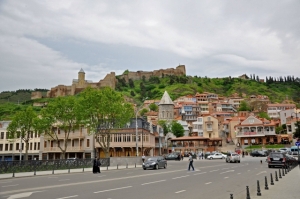 International Finance Corporation (IFC), a member of the World Bank Group, has allocated money to support green housing in Georgia, and replace poorly insulated Soviet-era apartments in Tbilisi.
IFC is providing a $23 million loan package to a subsidiary of m2 Real Estate to fund green, low-to-middle-income housing in the Georgian capital, helping create jobs and spur economic activity.
IFC's loan to m2 Residential LLC, which includes $11.5 million mobilized from the Green for Growth Fund, Southeast Europe (GGF), will finance around 1,800 apartments, which are expected to increase the efficient use of energy, water, and materials to reduce the negative impacts on health and the environment.
"This partnership with IFC has helped us complete the first stage of our strategy to provide quality housing in Tbilisi," said Irakli Burdiladze, Chairman of m2 Real Estate.
"As one of the leading Georgian development companies, we are committed to continue to improve living standards for Georgian families," m2 company statement said.
Jan van Bilsen, IFC Regional Manager for the South Caucasus, said, "IFC's financing continues to set a standard for developing energy efficient buildings, fostering competition in the housing sector. In addition to improving people's living standards, the project is expected to create jobs through local procurement during and after construction, contributing to economic development."
Christopher Knowles, Chairman of the Green for Growth Fund, highlighted, that by supporting such projects, the organization has continued its commitment to energy savings and the reduction of CO2 emissions in Georgia.
"The housing projects of m2 Residential LLC achieve an estimated 40% energy savings compared to similar sized new buildings in the Georgian market, demonstrating the demand for high quality, green buildings," Knowles said.
m2 Real Estate aims to build more than 2,000 new apartments by the end of 2018. In 2013, IFC provided the company with a revolving loan of $14 million, including $4 million from the IFC-Canada Climate Change Program, to help develop Georgia's first energy efficient, affordable housing projects.
Since Georgia became an IFC member in 1995, the IFC has provided more than $1 billion in long-term financing, including $362 million mobilized from partners, supporting 52 projects across various sectors. In addition, the IFC has supported trade, worth nearly $300 million, through its trade finance program, and implemented a number of advisory projects focused on private sector development.
19 November 2015 17:03