High Ranking Georgian Artist Rusiko Chikvaidze: "Art Makes People Kinder"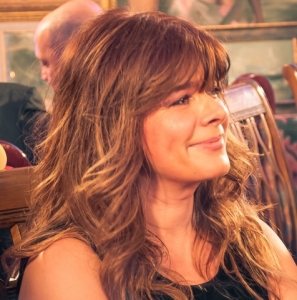 Rusiko Chikvaidze is a famous Georgian painter presented in the world's best artists list. Her works are kept in MMOMA, displayed in various galleries with many more in private collections of many influential and well-known people, Georgian and foreign, including the President of Azerbaijan Ilham Aliyev, who recently met her during his official visit to Georgia.
She has been awarded with gold and silver medals for her contributions to world culture and has a high category in the international edition of famous artist 'Ranking'.
The artist founded gallery Art Academy which now has branches in Tbilisi and Batumi. Recently, the gallery and company Hennessy, with its official representative GD Alco, held an exhibition celebrating the 250 year anniversary of the brand Hennessy at Tbilisi Marriott. The exhibition presented famous Georgian painters including Rusiko Chikvaidze.
Georgia Today met with Rusiko to discuss her achievements and work.
Where has your work featured so far?
I've had several personal exhibitions in Tbilisi, Paris and Moscow. I always take part in group exhibitions. My works are in a lot of private collections of famous people including several state leaders and presidents, Ilham Aliyev has my 3 paintings. About 10 paintings are in MMOMA.
What are your important achievements?
I am in the international album of world famous artists. International ranking means a lot because it means that your works are investments.
I founded Art Academy five years ago for my paintings. Then I thought to bring some of my really talented friends there, too.
Always the best works of the best artists are displayed in the gallery and they change regularly. Our main goal is quality. Art Academy has branches in several places in Tbilisi and in Holiday Inn in Batumi. We are planning to open new ones.
What have you been up to recently and what are your future plans?
My personal exhibitions were held in National Museum and TBC Gallery recently. I'm planning personal exhibitions in Tbilisi and Baku. My gallery is in the process of negotiating to hold exhibitions in London and other cities, too.
We've been collaborating with Hennessy for several years. They asked our gallery to hold an exhibition in celebration of Hennessy's 250-year anniversary. The exhibition lasted two days and took place in Writer's House of Georgia, and Tbilisi Marriott.
It is almost winter now and I'm working on fairy tale themed paintings. I started a series of paintings in the summer called NOW in which I express what is happening 'now' in our world at this very moment. I haven't presented these paintings yet but I already have a few of them.
When did you start painting?
I've been painting all my life. My family have always supported me. My mom is a doctor and her patient then was Lado Gudiashvili (famous Georgian painter). She brought my works to him and asked for advice.
He told her a very simple but very clever thing which I absolutely agree with. He said not to take me to teachers and not to prepare me too much in order to maintain my individuality. And we did exactly that. Before I entered Tbilisi State Academy of Arts, my teacher was one of the most talented painters, Tazo Khutsishvili.
What are your paintings about and what is your inspiration?
My paintings are about global problems, ecology, human relationships, love, values, philosophy and a positive outlook. Maybe I don't do it intentionally but I am told and it is written that my works are mostly positive and I agree with that. I don't like aggression. The world is so full of aggression that humans need to get something positive in their lives; to relax a little bit, to become a little kinder. My slogan is that Art Makes People Kinder.
Everything interesting influences me; books, music, cities, being around interesting people and in an interesting environment; even delicious food. And I paint what I love. Each painting is very important for an artist, because each painting holds an event which took place in the artist's life. Painting is not only a work of art, it is also history.
Ana Akhalaia
19 November 2015 22:15