Bernard Kouchner: First EU Needs to Change Itself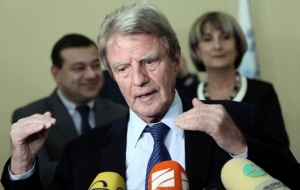 Former Foreign Minister of France, Bernard Kouchner, arrived in Georgia for two days to discuss the development of the healthcare system.
Georgia's Minister of Health, Labour and Social Affairs, Davit Sergeenko, announced Kouchner has become the head of Georgia's consultation board, as he is a doctor by background.
Kouchner was also asked some political questions regarding Georgia's European Integration to which he replied "of course you have some chance, but don't be in a hurry, the EU needs to change itself yet."
"Look, all 28 countries together could not answer the refugees that came to us. I would advise you to prepare yourselves in Georgia and then we'll see. Your readiness is the main thing."
According to the former foreign Minister, [we] are in a bit of a hurry and that is natural, but when we encounter problems it is very hard to find joint answers. "This is a large machine comprised of 28 countries. Naturally we welcome your presence in the EU as a candidate first, and then becoming an EU member step by step," Kouchner commented.
As Sergeenko announced, within the framework of his visit, Kouchner will have the possibility to discuss the basic strategy of the healthcare system's development.
In addition, the French guest will also hold a meeting with the medical society and students.
20 November 2015 14:21