Famous Georgian Opera Singer Considers Politics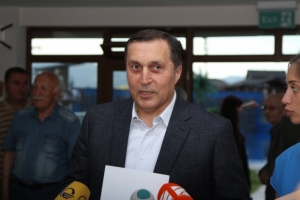 World famous Georgian opera singer and philanthropist, Paata Burchuladze, has decided to become a politician.
The renowned Georgian operatic bass singer, known for his charity 'Iavnana' in his homeland, has announced that he has cancelled all of his performances for the next year in order to develop a civil organization he founded last year known as the Georgian Development Fund.
Many people in Georgia believe that this announcement, coming before the parliamentary elections in 2016, is somehow connected with his desire to come into politics. Some believe his organization may turn into a political party.
Burchuladze emphasized that life will show him the way in the future, however he does not reject his possible appearance in a political landscape.
"I never thought of becoming an opera singer, but life brought it to me, or better to say, I was given a chance and used it," he stated, continuing "I never wanted to be a philanthropist, but life offered me the conditions to become one."
Currently Burchuladze is head of the new organization's supervisory council. Its executive director, Vano Machavariani, used to be the Foreign Affairs Advisor to the president.
Many believe the new organization may be turned into a political party before the parliamentary elections in Fall 2016.
24 November 2015 14:01