Informal Eastern Partnership Dialogue Meeting in Tbilisi Underway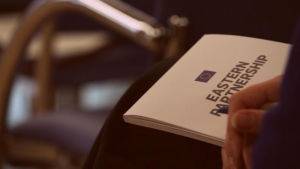 Tbilisi is hosting the 6th Informal Eastern Partnership Dialogue.

The Georgian Foreign Ministry states that the focus of the event, which brings together Foreign Ministers of the partner countries, will be foreign policy issues, as well as health issues.

According to the MFA, EU Commissioner for the European Neighborhood Policy and Enlargement Negotiations, Johannes Hahn, and Deputy Secretary General of the European External Action Service, Helga Schmid, have arrived in Tbilisi.

The meeting will focus on the progress made with the cooperation agreed upon at the Riga Summit, and on prospects for the enhancement of cooperations, given the results of the reviewed European Neighborhood Policy.

The EU Commissioner for Health and Food Safety, Vytenis Andriukaitis, visited Tbilisi to participate in the sectoral dialogue (meeting of the Ministers of Health).

Proceeding from the dialogue format, the Foreign and Health Ministers of the Eastern Partnership countries are invited to participate in the meeting.
26 November 2015 16:15