Georgian Defense Minister on Provoking Russia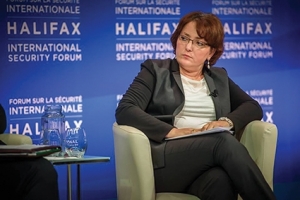 Georgia Defense Minister Tinatin Khidasheli attended the Halifax International Security Forum in Canada last week, participating in the plenary session "Cooperate, Contain, or Conquer: Prioritizing Strategy 70 Years On."
According to the Defense Ministry (MOD), the session covered the global challenges that have emerged during the last 70 years since World War II. The Minister talked about the last two decades and discussed how the West was ready for the challenges resulting from the fall of the Berlin War and the Soviet Union and what should be done to cope with future threats.
The MOD says one of the important topics of discussion at the Forum, along with Syria and related threats, was Russia, with the question: Russia – partner or threat?
"Georgia has many friends and partners. Our main challenge was to talk about more guarantees against a background of any type of relationship and dialogue with Russia and to get assurance that this won't damage the interests of partner countries," Khidasheli said.
Delivering a speech to the conference panel, Khidasheli appealed to the international community to take resolute and determined steps.
"I disagree with the idea that the US or any other European ally is abandoning a small nation, be it Georgia or any other country. This has become a very popular question since the publication of the photo showing Obama and Putin at a table talking like the best of friends. I don't think this is abandonment but what is missing from this picture is the realization that we can talk and cut whatever deals with Russia we want but it needs to be accompanied with a positive agenda towards those countries who have been partners over the years, throughout the history of independence!" the Georgian minister declared.
Khidasheli went on to explain that there are countries who want to be a part of the world, as Georgia does. "Then we see competition on the side of Washington, on the side of civilization, human rights, democracy, and rule of law. Have [such countries] on board – this is the answer."
Responding to the Forum moderator, who said provoking Moscow deliberately could be one of the reasons for the Russian aggression of 2008, Khidasheli said that "provoking Russia" are two words which should not be spoken to a Georgian. "It will be the end of the discussion for you," she added.
As the Defense Minister said, anything sovereign Georgia does tomorrow might be considered a provocation, another provocation that will serve as a good reason for Russia to act again. She expressed disappointment that, after Ukraine and Georgia, this discussion about somebody doing something provocative towards Russia still occurs.
Before the Halifax Conference, Tinatin Khidasheli participated in a multilateral format organized by the United States Department of Defense involving defense ministers of the Kingdom of Netherlands, Latvia, Albania, former Republic of Yugoslavia-Macedonia and the Chief of Defense of General Staff of Poland.
Zviad Adzinbaia
26 November 2015 20:35