Artist of the Month: William Kentridge, the Invention of Africa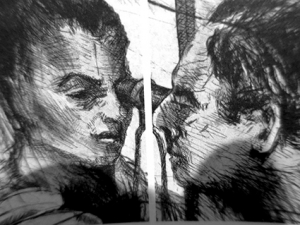 Visual perception depends on the eye of the beholder. In his stereoscopic and anamorphic pieces, artist William Kentridge makes the central perspective recognisable as a Western hypothesis, and its conditions and its consequences perceptible.
Kentridge's silhouette collages inspire the viewer to reconsider how large a part the observer plays when making sense of something. In some of his works, Kentridge makes use of visuals and motives created by German Renaissance artists and adapts them into his own metaphorical language. The artist analyses the medium of black and white imagery, so reflecting the political and social upheavals of his time.
The political content and unique techniques of Kentridge's work have propelled him into the realm of South Africa's top artists. Working with what is in essence a very restrictive media, using only charcoal and a touch of blue or red pastel, he has created animations of astounding depth. A theme running through all of his work is his peculiar way of representing his birthplace. While he does not portray it as the militant or oppressive place that it was for black people, he does not emphasize the picturesque state of living that white people enjoyed during apartheid either; he presents instead a city in which the duality of man is exposed. In a series of nine short films, he introduces two characters - Soho Eckstein and Felix Teitlebaum. These characters depict an emotional and political struggle that ultimately reflects the lives of many South Africans in the pre-democracy era.
For the series, he used a technique that would become a feature of his work - successive charcoal drawings, always on the same sheet of paper, contrary to the traditional animation technique in which each movement is drawn on a separate sheet. In this way, Kentridge's videos and films keep the traces of the previous drawings. His animations deal with political and social themes from a personal and, at times, autobiographical point of view, since the author includes his self-portrait in many of his works.
In all of his animated works, the concepts of time and change make up a major theme. He conveys this through his erasure technique, the seamlessness of which de-emphasizes the fact that it is actually a succession of hand-drawn images. This he implements by drawing a key frame, erasing certain areas of it, re-drawing and thus creating the next frame. He is able in this way to create as many frames as he wants based on the original key frame simply by erasing small sections. Traces of what has been erased are still visible to the viewer; as the films unfold, a sense of fading memory or the passing of time and the traces it leaves behind are portrayed. Kentridge's technique grapples with what is not said; what remains suppressed or forgotten but can easily be felt.
In the nine films that follow Soho Eckstein's life, an increasing vehemence is placed on the health of the individual and on contemporary South African society. Conflicts between anarchic and bourgeois individualistic beliefs, again a reference to the duality of man, indicate the idea of social revolution by poetically disfiguring surrounding buildings and landscapes. Kentridge states that, although his work does not focus on apartheid in a direct and overt manner, but rather on the contemporary state of Johannesburg, his drawings and films are certainly spawned by, and feed off of, the brutalized society that it left in its wake. As for more direct political issues, Kentridge says his art presents ambiguity, contradiction, uncompleted movements and uncertain endings, all of which seem like insignificant subtleties but can be attributed to most of the calamity presented in his work.
William Kentridge was born on 28 April 1955. He is one of the most prominent and influential South African artists, whose work reflects global concerns.
Lily Khositashvili
26 November 2015 20:43