EU Provides €100 Million to Support Reforms in Georgia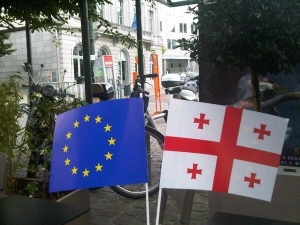 The European Commission has adopted a new assistance package to Georgia €100 million to support reforms related to the EU-Georgia deal.
According to the statement has released today, Commissioner for European Neighbourhood Policy and Enlargement Negotiations, Johannes Hahn said ''With the Association Agreement, the EU-Georgia relations have moved to another level. The assistance package will support central elements in this ever closer relationship''.
The new package will additionally support Georgia in meeting its reform objectives in the sectors of public administration, agriculture and rural development.
It will help to promote an active civil society, assist key Georgian institutions in implementing the Association Agreement and advance Georgia's visa liberalisation process with the EU.
The funding comes from the European Neighbourhood Instrument (ENI), the main financial and cooperation instrument through which funding is given to the European Neighbourhood Policy (ENP) countries, including Georgia.
In June 2014 the EU and Georgia signed an Association Agreement, which includes a Deep and Comprehensive Free Trade Area (AA/DCFTA).
The Agreement significantly deepens political and economic ties with the EU in the framework of the Eastern Partnership.
Additionally, respect for democratic principles, human rights and fundamental freedoms, constitute essential elements of this new generation Association Agreement.
In addition, mobility of persons is high on the EU-Georgia agenda, particularly through implementation of the Visa Liberalisation Action Plan (VLAP) and Readmission Agreement.
27 November 2015 18:25