BBC: Russia's Ban on Turkish Products Similar to the Georgian Case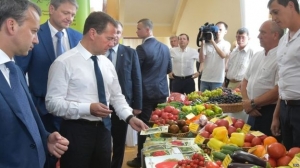 BBC draws a parallel between Russia's potential ban on Turkey's agricultural products and an embargo imposed to Georgian wine back in 2006.
"At least according to Gennady Onishchenko, Russia's former chief sanitary inspector and now prime ministerial aide, who said on Wednesday that "each Turkish tomato" bought in Russia contributes to the country's economy and thus to purchasing missiles that could potentially be fired at Russian warplanes," BBC reports.
The comment of the Russian official appeared after Turkey downed a Russian Su-24 bomber on the Turkey-Syria border early this week.
"Russian agriculture minister has announced that around 15% of Turkish produce does not meet Russian safety standards. Controls are being tightened, with possibly serious consequences for Turkish exporters."
"In March 2006, Russia banned wine imports from Georgia, citing health risks. The industry relied on Russian drinkers, and was hit hard," BBC reads.
According to BBC, analysts said Russia was irritated at Georgia's increasingly pro-Western stance and ambitions to join NATO.
"The Georgian president accused Russia of economic blackmail. The ban was finally lifted in 2013, with Russia quickly resuming its place as the top importer of Georgian wine."
Georgia's Revenue Service (RS), Thursday, explained that some trucks with Turkish license plates that want to cross the Georgia-Russia border had problems at the Larsi checkpoint (Georgia-Russia border).

The RS said, part of the trucks were heading to Russia, while the rest were using the route just for transit. "Several trucks went back to Turkey and some to Azerbaijan. "The Russian side does not confirm imposition of any restrictions for Turkish vehicles," the Revenue Service stated.
Photo: www.bbc.com
28 November 2015 17:39