Georgian Pianist Featured on New Coldplay Album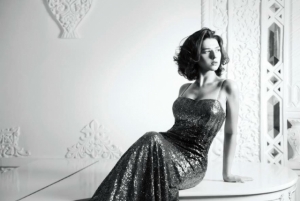 Renowned Georgian pianist, Khatia Buniatishvili, will play piano for Coldplay's new track, which is due to release on the 4th of December.
Coldplayzone posted an exclusive on their website, where Coldplay's 7th album can be previewed.
Kaleidoscope is a track that features the poem, Guest House by Rumi, and Barack Obama singing Amazing Grace.
Buniatishvili collaborated on the album, A Head Full Of Dreams, and will be playing piano on the mentioned track.
According to Coldplayzone, Kaleidoscope is inspired by Rumi's Guest House, and the charisma of the poet, Coleman Barks, combined with Buniatishvili's piano, and the striking interpretation of the US President, Barack Obama, performing, Amazing Grace.
The piece is carved in teaching that Chris did his about three years ago, and that is that every emotion emanating from the man is regarded as a divine gift and is able to change the way you view the world and humanity, with a desire to pass this vision of the world to future generations. The central idea of the song coincides perfectly with that album and it is the pivotal song of the disc.
28 November 2015 17:51