Georgian PM Participates in Climate Change Conference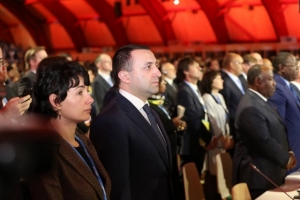 A Climate Change conference, involving the leaders of 150 countries, opened in Paris today.
The Governmental Administration said, the conference participants gathered in the Le Bourget exhibition center, where the Georgian Prime Minister, Irakli Garibashvili, also arrived.
According to a video spread, Garibashvili was greeted by French President, François Hollande, UN Secretary-General, Ban Ki-moon, and French Minister of Foreign Affairs and International Development, Laurent Fabius.

The conference is expected to go beyond climate issues, and be utilized for world leaders to discuss diverse topics, such as Paris terrorism, tension between Russia and Turkey, and others.
30 November 2015 17:51