"Corona Days" Artworks of Young Georgian Artists: Giorgi Kobiashvili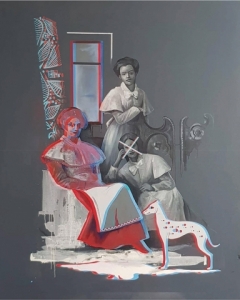 In continuation of its collaboration with BI Auction, presenting artists taking part in the online exhibition 'Artworks @Corona Days', GEORGIA TODAY is this time introducing a young innovative 3D painter, Giorgi Kobiashvili.
Born into a family of artists, Giorgi has been closely in touch with his creative side since early childhood. His decision to become an artist came easy, and in 2016 he received a Masters from the Tbilisi State Academy of Arts. It was during his Masters that he truly found himself and his style, he tells us.
The young artist has participated in local as well as international exhibitions in the United States, Germany and Italy. One of them, 'personal structures' took place in Venice's Palazzo Mora in 2017.
The pieces he entered for the 'Artworks @Corona Days' online exhibition are unique in both symbolism and style. One of them, titled "the Secret," carries the author's special signature: it is a 3D work, meaning that 3D glasses are needed to take in all the dimensions of the piece.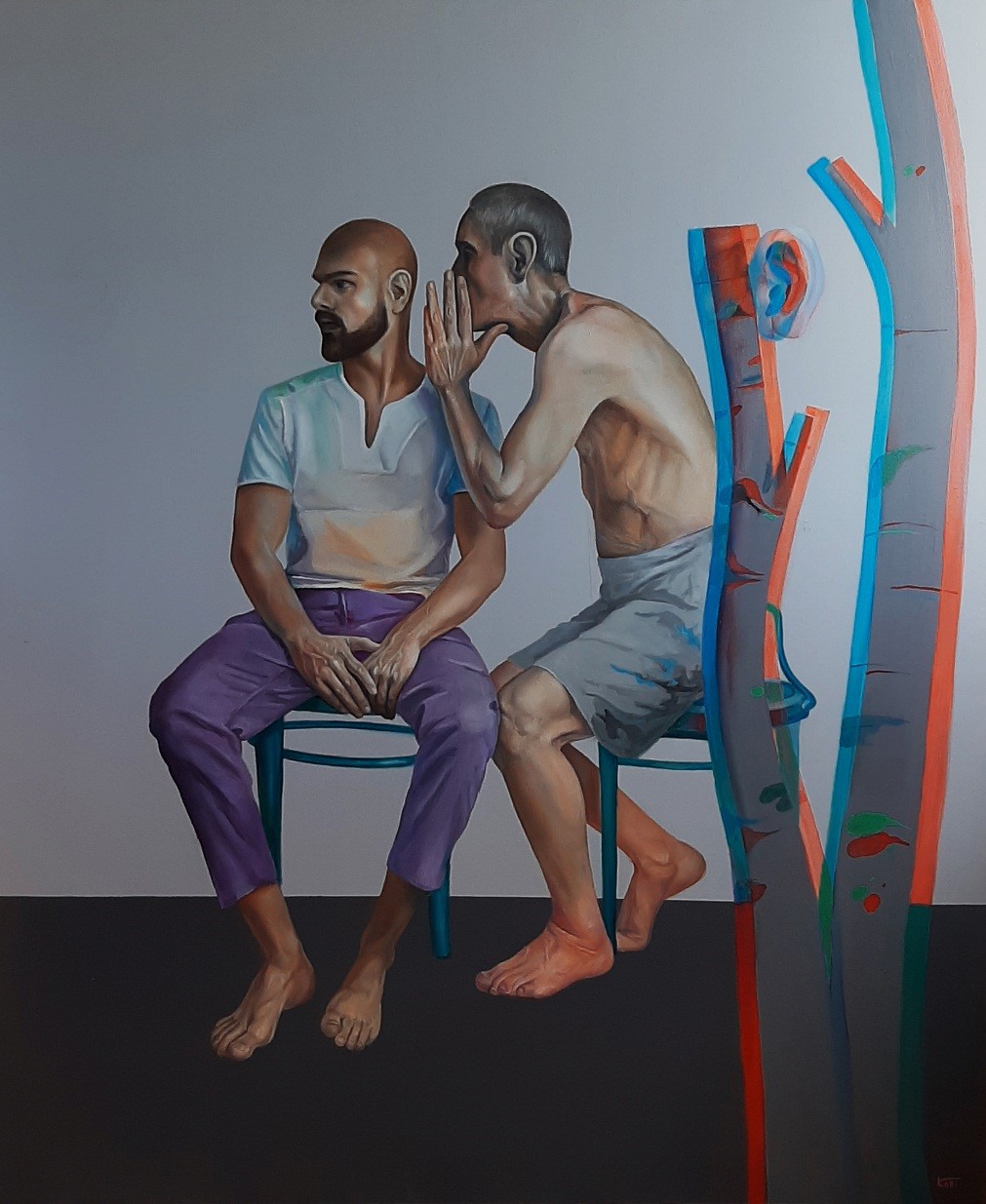 "I associate the very nature of secrets with mysticism as being locked within a prison of its own making. Sometimes, we find it hard to even reveal our own selves, even though the sharing of this information might bring us peace. When we tell someone a secret or whisper, we spark interest in other people," Giorgi tells GEORGIA TODAY.
We ask him about his interest in 3D paintings.
"I believe that it is my creation, since I've not come across a similar technique. You need 3D glasses to look at this painting, which will help you see all the additional spaces in the work," Giorgi says.
He remembers where he got the idea of 3D painting from first: he was watching a 3D movie and became interested in how these effects could be transferred to the canvas.
Giorgi's first complete 3D work was 'Remove from Friends List.' Unfriending someone is only a button click away for us in these modern times, but back in the day, they had their own solution: cropping out the heads of "frenemies" from photographs.
The coronavirus pandemic has us all adapting to a new, unprecedented reality, and the young artist was no exception.
"It has certainly given me more free time and impacted the themes of my works. In the pre-pandemic world, I probably wouldn't have touched upon these subjects that today I find a great source of inspiration," Giorgi tells us.
We were interested to know how he saw the post-pandemic world in his 3D creative mind.
"I think it will affect painting as well as other fields of art. The art world will change, since our view point of the world will change: an invisible virus had us imprisoned in our homes, it got us thinking and made us face our own ideas. This will all be reflected in our works later," the artist says.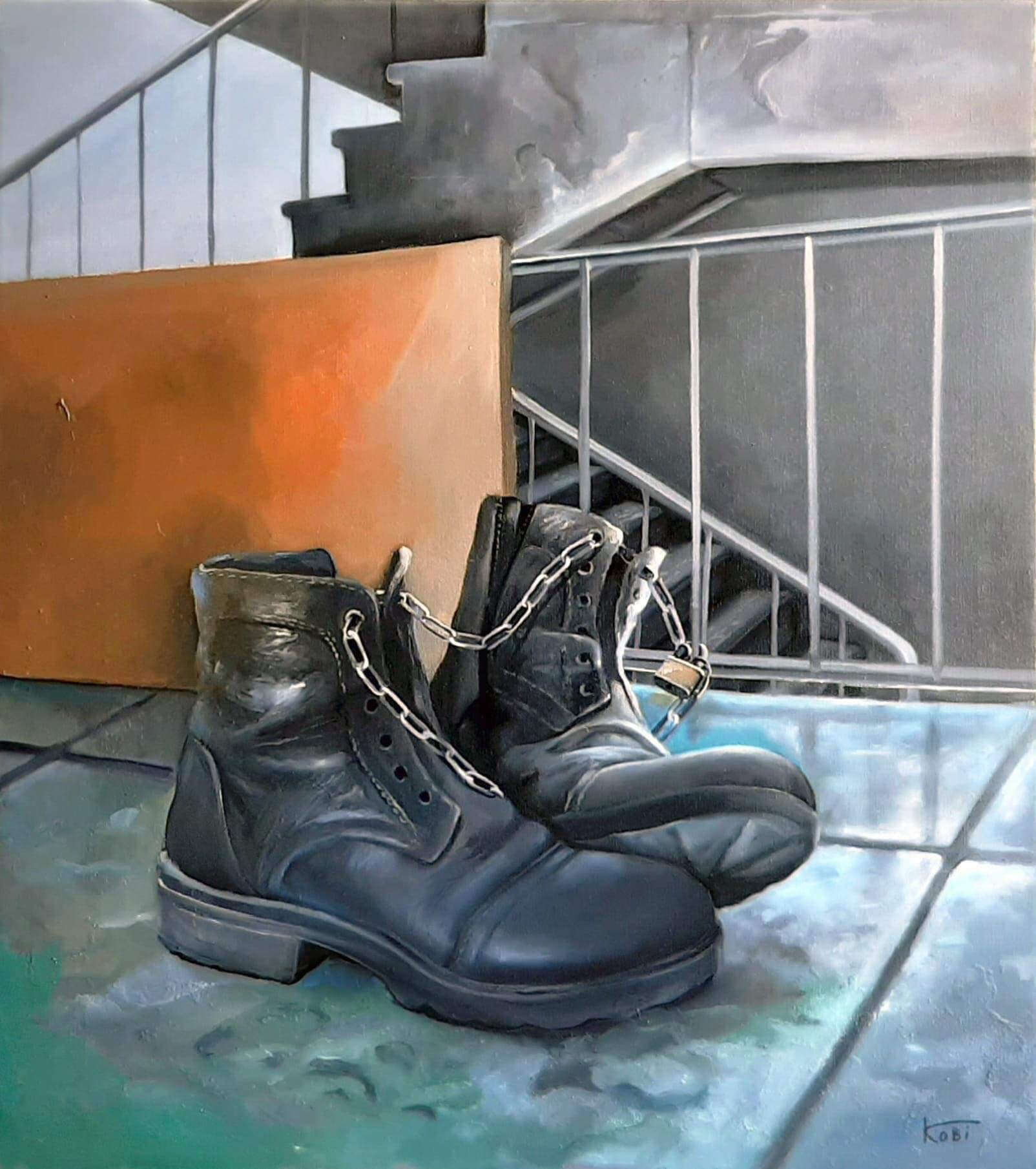 Meanwhile, the key in the lock in the shoes above is slowly turning to unlock, and Georgia, like the rest of the world, is finding ways to go back to the life as we knew it before the pandemic.
By Nini Dakhundaridze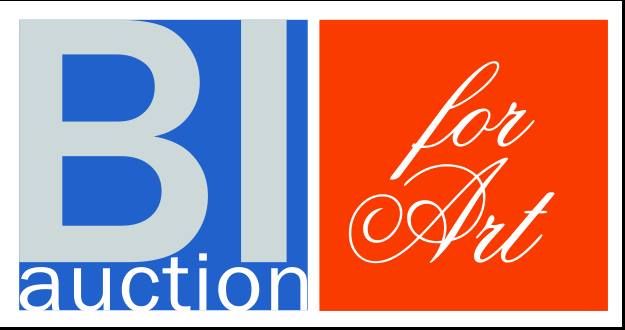 About BI Auction 'for ART': BI Auction is the first Art Auction Company of Georgia, established in 2016. The company's aim is to promote Georgian art and artists and enlarge the market. In four years, BI Auction 'for ART' has organized seven auctions and presented more than 400 paintings from 120 Georgian painters. In every auction, the collection is selected from among a thousand paintings from the well-known legendary artists of Georgia and also from promising young artists. For more information, please contact biauction1@gmail.com
28 May 2020 21:07