12th 'Night Serenades' Opens in Batumi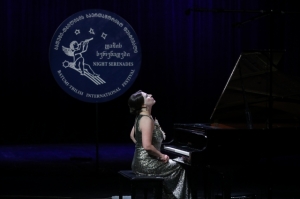 The festival 'Night Serenades' was opened for the 12th time at the Batumi Ilia Chavchavadze State Theater.
Pianist Tata Licheli and Gia Kancheli Quartet participated in the first concert evening of the festival, which was broadcast live on Adjara Public Broadcaster.
"It is true that we encountered great difficulties in organizing the festival, that we had to revise and change the program several times, but, fortunately, our festival still took place," said Giorgi Isakadze, Artistic Director of 'Night Serenades'. "Due to the current situation in the world, we couldn't extend our usual invites to foreign stars, yet, we did not want to break the tradition founded by the adored musician Liana Isakadze with all her creative impulse, and so we made every effort not to disappoint the expectations of our loyal listeners. The most talented Georgian musicians will perform at this year's festival. I'm sure it will become clear once again what a great creative potential our homeland has," he added.
Excellent works by Georgian composers have been created especially for the festival, guaranteed to take their rightful place among Georgian musical treasures. These will premiere during the Tbilisi evenings of the festival on September 2 and 4 thanks to the composers Giorgi Shaverzashvili and Sandro Nebieridze.
Excellent soloists are also taking part in this year's festival: pianists Tata Licheli, Sandro Nebieridze, Elene Shaverzashvili and Liza Chkhaidze; the Gia Kancheli String Quartet; and the main orchestra of the festival, the 'Georgian Virtuoses'.
"As always, we tried to present a rich, genre-diverse program. Unusual works by Haydn, Beethoven, Sibelius, Grig, Dvorak, Janachek, Vakhtang Machavariani and Jimsher Chkhaidze will be performed at the festival," Giorgi noted. "Thanks to everyone who stood by me in this difficult situation and brought life to those concert evenings that I hope will give you pleasure."
He also added his thanks to the director of the festival, Nina Tsagareli; the main conductor of the festival, maestro Vakhtang Machavariani; and the Public Broadcaster of Adjara for broadcasting the opening ceremony of the festival live.
"This year we had to open the festival in a special format, but it is very important to have a live broadcast for those waiting for this festival from year to year, the true fans," said Sopho Khalvashi, Deputy Mayor of Batumi. "'Night Serenades' is one of the most important festivals for both our country and our city, and has been traditionally held in Batumi for 12 years. Over the years, the festival has managed to maintain a quality which has made it interesting and attractive not only for Georgian but also for foreign listeners."
This year's festival is dedicated to the 95th anniversary of Georgian composer and teacher Sulkhan Tsintsadze.
"Batumi City Hall was and will be a supporter of this festival, because 'Night Serenades' has become an integral part of the cultural life of our city," the Deputy Mayor added. "I would like to wish success to each participant and organizer."
"This year, fans of 'Night Serenades' have the opportunity to attend the extraordinary festival in a different format, which has become a symbol of high art and culture of our city, region and country," said Tamar Gudava, Head of the Department of Education, Culture and Sports of Adjara. "The festival has a very interesting history. It was founded in Abkhazia by the greatest virtuoso artist Liana Isakadze. It is important for our city that this festival was restored in Batumi. 'Night Serenades' is being held for the 12th time this year and I hope that the festival will one day be resumed in Abkhazia. Good luck to everyone and we will always be supporters of this extraordinary festival!"
Tata Lichel, pianist noted how special this year's 'Night Serenades' was for her. "I was very nervous. It was the first time I have had to play in an empty hall during a pandemic, and I will never forget that feeling," she said. "Of course, the greatest spark is when there is a listener in the hall, but there's no less spark and emotion when you know that thousands of people are watching live."
The festival founder is Liana Isakadze, the artistic director is Giorgi Isakadze, the main conductor is Maestro Vakhtang Machavariani, and the director of the festival is Nina Tsagareli.
Supporters of the XII Batumi-Tbilisi International Festival 'Night Serenades' are: the Ministry of Education, Science, Culture and Sports of Georgia, Batumi City Hall; Tbilisi City Hall; Ministry of Education, Culture and Sports of the Autonomous Republic of Adjara.
The event is organized by the company 'Art Alliance.' The official insurer of the festival is the company 'Ardi.'
By Ana Dumbadze
02 September 2020 13:33