After Batumi, Tbilisi Hosts Night Serenades Concert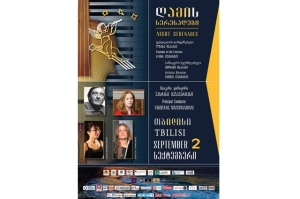 Following a concert in Batumi, the International Classical Music Festival 'Night Serenades' held a concert in Tbilisi and allowed thousands of viewers to watch it live on its official Facebook page.
The chamber orchestra 'Georgian Virtuoses," maestro Vakhtang Machavariani and pianists Liza Chkhaidze and Elene Shaverzashvili took part in the evening.
"This year, our traditional festival Night Serenades is held in special and unusual conditions. The unique feeling of live music, the encouraging applause of the listener- the concert evenings of this year's festival lack this usual atmosphere," noted Giorgi Isakadze, Artistic Director of Night Serenades. "Nevertheless, we are extremely pleased that after a long pause, the musical concert life is renewed again. Television and social networks allow a wider audience, more listeners, including foreign music lovers abroad, to virtually attend our concerts."
The live broadcast of the opening concert on Adjara TV from Batumi received great interest, confirmed by the thousands of views of live broadcasts on social networks.
This year's festival is also distinguished by special creative initiatives. Important new works of Georgian composers were created for the festival: the fourth piano concerto of famous composer and representative of a great musical dynasty, Giorgi Shaverzashvili; and the second piano concerto of the talented young composer Sandro Nebieridze. Works by Georgian composers were also performed: Vakhtang Machavariani Concertino and Jimsher Chkhaidze's 'Sentiments' for piano and chamber orchestra.
Young Georgian talented soloists, pianists Sandro Nebieridze, Elene Shaverzashvili, Liza Chkhaidze took part in the Tbilisi part of the festival, as Isakadze says, the "bearers of our hope for the future."
Also on offer were masterpieces of classical music by interesting, genre-diverse foreign composers. Sibelius' 'Rakastava, Love Suite' and Janacek 'Suite for String Orchestra' were performed for the first time in Georgia.
"I would like to thank the founder of the festival, the unique musician Liana Isakadze, for her invaluable contribution to the development of Georgian musical culture," Giorgi Isakadze said. "I thank each participant and member of the organizing team. Thanks to the main conductor of the festival, Maestro Vakhtang Machavariani, the director of the festival Nina Tsagareli and the main orchestra of the festival 'Georgian Virtuoses.'"
"It is sad that the festival does not have an audience this year, but we are still motivated," said Vakhtang Machavariani, conductor. "I'm glad that young, beautiful Liza Chkhaidze and Elene Shaverzashvili are participating in this year's festival and also the talented young composer Sandro Nebieridze. Thanks to the orchestra for working with such heart and soul."
"Thanks to founder Liana Isakadze, artistic director Giorgi Isakadze, chief conductor Vakhtang Machavariani, and festival management Nina Tsagareli, Tata Sadradze and Nona Lolua. Special thanks to the chamber orchestra 'Georgian Virtuoses', who, in a very short time, managed to cope with this diverse repertoire, which was performed at today's concert," said composer Giorgi Shaverzashvili.
"Today's concert was the first time my piano concerto # 4 was performed and it was performed by my daughter Elene, to whom this work is dedicated. It was a success, and I would like to express my gratitude to all the participants."
"It is a great honor for me that my composition 'Sentiments' was performed by the extraordinary chamber orchestra 'Georgian Virtuoses' at Liana Isakadze's festival," said Jimsher Chkhaidze, composer. "It is no less an honor that my work was conducted by Maestro Vakhtang Machavariani. It was performed for the first time in Georgia, before that having first been performed in Ingolstadt.
Supporters of the XII Batumi-Tbilisi International Festival 'Night Serenades' are: the Ministry of Education, Science, Culture and Sports of Georgia, Batumi City Hall; Tbilisi City Hall; Ministry of Education, Culture and Sports of the Autonomous Republic of Adjara.
The event is organized by the company 'Art Alliance.' The official insurer of the festival is the company 'Ardi.'
By Ana Dumbadze
03 September 2020 17:22