Nino Orjonikidze, Vano Arsenishvili Earn Trento Film Festival Award for 'A Tunnel'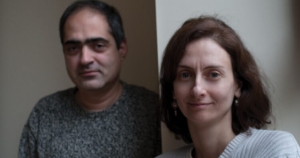 Filmmakers Nino Orjonikidze and Vano Arsenishvili have earned their second prize in two weeks for the feature documentary 'A Tunnel' - the Trento Film Festival Principal Award.
The two directors were previously awarded the Best Movie Grand Prix.
Matteo Della Bordella, a member of the jury panel, said the feature brought to the screen "an extraordinary closeness, a sense for the visual atmosphere and an excellent harmony with the structural imbalances of power".
The jury panel's commentary reads: "Dramatic but never exaggerated, the film identifies the events of a small village as a clash between past and future, between those who have and those who have not, in which we all have a role".
'A Tunnel' turns the lens on an old railway platform in a remote valley of Georgia that suddenly becomes a site for big change when hundreds of Chinese settle around it to build the New Silk Road.
The infrastructural project brings in workers and heavy machinery, causing uncertainty among locals who are accustomed to a simple, pastoral lifestyle.
Last week, 'A Tunnel' was named Best Film by First or Second-Time Director at the MakeDox Creative Documentary Film Festival.
04 September 2020 16:44