Announcement | Eclectik Music Festival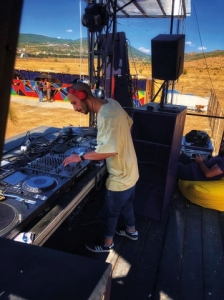 Eclectik Music Festival is a completely new and, most importantly, exciting space that is eager to celebrate art. The festival lives up to its name, each time offering audiences unique and eclectic events.
Eclectik is a space that strives to promote and support arts that are out of the ordinary, while serving as an advocate for artists of all genres. This time, Eclectik will again be filled with astonishing music-making and camaraderie, friendships formed and fostered, artistic discoveries and challenges. You will find new faces next to musicians and craftsmen we all know and love, all of whom have the opportunity to present their authorial works to attending guests.
On September 11, from 16:00, take a walk near Lisi, where you can enjoy an exhibition of handicrafts, get your face/body painted, and throw yourself into the Festival of Colors. (Please be sure to bring a light-colored T-shirt).
From 21:00, the alternative band 'Asea Sool' will hit the stage with its crazy music, followed by the kings of Georgian rap, Zaza Nozadze (Sfx), and the long-missed Kabu. After midnight, Eclectik's stage will witness immensely talented newcomer DJs, Hesque and A70.
Tickets can be purchased both online and on the spot.
www.tkt.ge/Event/237414/eclectik-night-vol-2
10 September 2020 16:24