Gepherrini: Find Your Style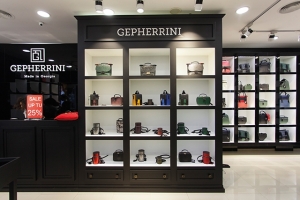 Fashion has become a way to express yourself, and by translating your personality into your clothing style, you can now become an artist. We need outstanding accessories to compliment the visual we choose to show the outside world, and in Gepherrini's designs, you are sure to find a piece of your character.
Gepherrini was established in 2014 and was the first brand to start producing bags in Georgia.
"My wife Sophio Khositashvili and I got this idea to start a label that would be suitable for both local and international markets. Over time, we added shoes, wallets, leather, and silver accessories to our collection," Ilia Gepheridze, the company co-founder, tells GEORGIA TODAY.
What started small, with great ambition and determination, has now become international: Gepherrini is exported to 11 countries, including the US, Hong Kong, China, Singapore, Kuwait, France, Switzerland, and Sweden, and runs 42 sales points.
"So far, we have taken part in five international exhibitions, and everywhere we've gone, we've gotten great feedback on our products. In 2018, Gepherrini was named Georgian Brand of the Year. In 2019, the label received the Brand of the Year award in Kazakhstan. In the same year, we got named among the top 10 "brands with outstanding style" in Hong Kong," Ilia tells us.
In different shapes and colors, made for fashion-lovers of different styles and tastes, Gepherrini's production stands out and speaks of its owner. You can shop for women's, men's, and children's bags, shoes, jewelry, and other accessories at Gepherrini. Every product is hand-made by Georgian designers in one space, personally for you.
The label's co-founder shared his insight into the reasons why customers choose Gepherrini.
"Our brand has this conception that unites high-quality production with affordable prices, outstanding designs, and limited models. Not a single one of our products is like any of the other brands: all the models are created by Georgian designers. What's more, Gepherrini is the first brand in Georgia that comes with warranties. We offer a 6-month warranty for the leather alternative and a one-year warranty for leather products. Our design is not only inspired by Georgian themes, we always keep in mind the international fashion tendencies when we work on new collections," he says.
Another reason to choose Gepherrini is its sustainability: they offer eco-leather products to vegans, vegetarians, and to all who would like to make fashion cruelty-free.
The coronavirus pandemic has hit Gepherrini, much like it has all the businesses of various directions. However, unlike many other businesses, it took just a few months for Gepherrini to stabilize its sales, and now the company founder tells us that he believes that it won't be long until the brand goes back to its usual stand in sales.
The right mind-set, direction, and pricing policy have been named as the reason for the company's international success.
"Gepherrini always listens to its customers and works hard every day to make the products even better, and more likable. Our warranty service has been a great help for us: the minute the buyer returns a product, we start working on improving it. During the first year, we had 7% of sold production returned to us, but today that percentage stands at 0.2%."
The company's biggest upcoming challenge is entering the Chinese market and establishing itself there. As Ilia tells us, that won't be easy.
"In October, we have an active campaign planned in China. In the beginning, we would like to establish the brand on online platforms. The next step would be opening up actual stores over there. We've seen how much positive feedback our designs get during exhibitions in China. We have a few potential buyers, and before the end of this year, we'll decide who to partner up with," he says.
Over six years, Gepherrini has become one of the fastest-growing brands in Eastern Europe thanks to its vision of fashion as a genre of art. Have a look at Gepherrini's collection, pick, and make it your inspiration too.
By Nini Dakhundaridze
24 September 2020 17:18