Documentary 'Tskhinvali 1920' Premieres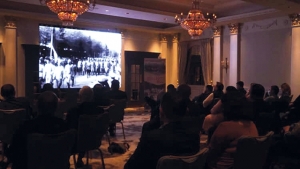 The documentary 'Tskhinvali 1920' was shown to specialists in conflict studies, historians and experts in a closed presentation. The documentary, which was worked on for two months, focuses on the events that transpired in the Tskhinvali region in 1920, exactly 100 years ago.
What really happened in 1920? Who would want to falsify the historical facts, portray the provocation by the Bolsheviks and the suppression of the uprising against the Democratic Republic of Georgia as genocide and damage Georgia's image? And why? The film answers these questions with facts, using documentary materials and analysis of proven historical events.
"We tried to present this historical issue as objectively as possible, not to cover it from nationalist positions, and I can boldly say that all the words uttered in this film are supported by relevant documents, archive materials," said Davit Bragvadze, founder of the Georgian Institute for Security Policy. "The final product is of very high quality and is quite a powerful and decent response to the Russian propaganda."
The idea of filming 'Tskhinvali 1920' belongs to the Georgian Institute for Security Policy. Historians Dimitri Silakadze and Davit Khvadagiani worked on it for two months with director of the film Mikheil Basiladze, and director of photography Kakha Bukhrashvili.
The film is in Georgian with English subtitles. It is planned to dub it into Russian in the near future. After a private screening, the premiere of 'Tskhinvali 1920' is set to be broadcast on TV and made available online.
By Vazha Tavberidze
01 October 2020 17:09