Meet the Designer with We'Ar Art: Flying Painter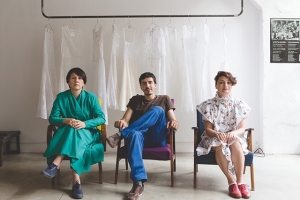 Unlike most autumns, this one has started with uncertainties. The fear of the unknown, planted deep within our human nature, has us further worried amidst the pandemic.
Bengü Akcardak, the co-founder of BI Auction and founder of WE'AR ART, is especially worried about one particular field.
"The pandemic has hit many sectors so much, but I am especially worried about art, artists and of course fashion designers," Bengü tells GEORGIA TODAY.
"During my studies at Tbilisi Academy on Fashion Design in 2018, I had the chance to see up-close how difficult it is to be a fashion designer; to create, to implement, to protect against copiers, to set up a shop or studio, to simply survive. So, with gratitude to GEORGIA TODAY, my project to introduce 'Georgian Designers' will now reach 'fashion lovers' who are interested in creativity, in design rather than in just a label," Bengü says.
WE'AR ART is a copyrighted brand/slogan with a unique philosophy: to create awareness of fashion and art. Since 2018, the WE'AR ART collection has only worked for one common 'good': raising funds through charity events and sponsoring competitions for young artists.
GEORGIA TODAY begins a collaboration with WE'AR ART to present to our readers Georgian fashion designers with a unique taste. This week, you'll read about the 'Flying Painter' a brand uniting fashion and art. We had Natalia Vatsadze walk us through the creative processes of the brand.
How did your career as a designer kick off?
I was making up the design of clothes and then having it tailored. I did not know how to sew then, and I still don't. Some people liked what I made and asked me to think of something for them, too. I started taking my self-designed clothes to a store and they agreed to sell them. In 2017, my friend Eka Kecbaia was invited to Fabrika and in one of the complex's spaces, she was to open a clothing store-workshop. She brought me along and that is how I become one of the "designers" for Flying Painter.
Where did you get your education related to the field you work in? How important do you deem professional education in making a designer?
I am an art expert historian by profession. I graduated college, studied in the painting academy, researched and studied the art scene of the 90's and suddenly I realized that I wanted to do what I was writing about. In 2008, I headed a painter group with some of my friends, called 'Bulioni' that gave, and still gives performances of a social and political character. In 2013, the group presented Georgia at the Venice biennale. In 2018, at Frankfurt book market, we had a personal exhibition. In 2019, we received a Sigizmund Valishevsky prize in Poland, for the contribution we had made to the art scene.
Eka and I are the "design-artists" of Flying Painter. We have no professional education in the design field. Today, self-education is more of a real and popular choice. We learned many things in the working process. In Flying Painter, it's the artists that create the clothes, that is what makes it so interesting.
Have you taken part in any fashion shows?
We're not much interested in participating in fashion shows. We've been involved in fashion weeks, but it's the exhibitions and social performances that interest us more.
What is the main idea of your designs/brand?
Flying Painter offers clothes created by artists, and the brand answers to different political and social themes.
Flying Painter is an everyday-wear that reminds us of our constitutional rights, with texts written inside the pockets of the clothes that underline the reality we are living in with its restrictions.
Flying Painter does not merely produce clothes: its collections and works are artistic projects with questions, standings and critique.
What kind of person wears Flying Painter?
It is important for the person who wears our clothes to stand out, to be dressed in high-quality, exclusive attire.
What is the feeling you get when you see someone strolling down the streets in your design?
I get so happy and excited that I want to go over and tell them they were made by me! I try my best to keep myself from doing it.
How has the coronavirus pandemic affected your business and designing style?
It's a tough time, but we've not stopped working, not even for a day.
Flying Painter had a website from its very first day, so we've always had online sales, but we still believe we need to develop it. We ourselves consult with the customers who enter our store. Our customer will always find something new with us, but, of course, like many people, we find it hard to work as intensively as we did before the pandemic.
What is the inspiration behind your works?
Living itself, the everyday life and the willingness to fall out of this routine.
Which international artists or designers have influenced your work?
The source of our inspiration comes more from unknown stories. For example, the design of one of our shirts was inspired by a 1913 diary that belongs to Nina Dzamiashvili, who had graduated from Gori's Elene Tarkhan-Mouravi School where she had, for five years, learned how to sew, knit and embroider. One of the drawings found in the diary manifested an example of self-organization and self-development related to the history of women's social empowerment.
How do you view Georgian traditional clothing? Has it somehow inspired your designs?
I personally love traditional clothes from Khevsureti. I don't think it has inspired our designs, though. Maybe on some subconscious level.
01 October 2020 17:10