Georgia's National Security Council Holds Session Regarding Karabakh Conflict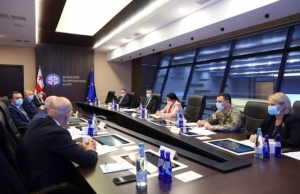 A session of the National Security Council of Georgia was held in connection with another military confrontation and the current situation between the neighboring Republics of Azerbaijan and Armenia.
The session discussed the serious situation caused by the conflict, which, unfortunately, has already resulted in casualties, and the escalation of the situation will have a drastic negative impact on the security of the region.
In a special statement released after the sitting, the Georgian side reaffirms its readiness to facilitate the resolution of the situation in any way possible, including, if necessary, to host a meeting of the representatives of the parties involved in the conflict in Tbilisi.
"We once again call on the OSCE Minsk Group Co-Chairs and international actors to take all measures to end the violence and resume dialogue.
"Georgia's good neighborly relations are connected with both Azerbaijan and Armenia. Our task is to maintain and further strengthen these relationships.
"In Georgia, we have always been proud of the peaceful coexistence of Georgians with different nationalities, including Azerbaijanis and Armenians, which is our common achievement that needs to be cared about and jointly nurtured.
"We should not allow that amid the crisis situation between Azerbaijan and Armenia, certain destructive elements, both inside and outside Georgia, cast shadow to our friendship and historic experience.
"Taking this into consideration, the Georgian side once again confirms its readiness to contribute to defusing the tension in any format, including through a dialog and hosting representatives of sides of the conflict in Tbilisi.
"For many years, the Georgian side has met and continues to fulfill its international obligations, including to neighboring countries - Azerbaijan and Armenia. In particular, the transit function of Georgia is an important factor for the functioning and development of the economy of both countries. Which, naturally, is also in the interests of Georgia.
"Today, civil shipments are carried out through Georgia in transit regime uninterruptedly and safely including in direction of Azerbaijan and Armenia. The intensity of shipments is high and this figure has not changed since the resumption of the military conflict.
"It should be noted that from the moment of escalation of the conflict, no restrictions have been imposed by the Georgian side on civil air shipments and no restrictions will be imposed. Also, due to the ongoing military activities between Azerbaijan and Armenia, the Georgian government temporarily suspended the issuance of permits across its territory on a shipment of military cargo through its land and air routes in direction of both countries. The sides were informed about this decision.
"In connection with any other international transit shipments, the Georgian side fully fulfills its international obligations.
"Our common interest is to quickly end the military confrontation and restore peace in the region," reads the statement of the National Security Council of Georgia.
By Ana Dumbadze
03 October 2020 12:04