State Ballet of Georgia to Present Outdoor Performances of Don Quixote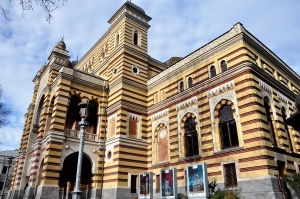 The State Ballet of Georgia is to present four performances of Ludwig Minkus' Don Quixote Suite from 15 October through 18 October 2020 (Thursday, Friday, Saturday and Sunday).
All shows start at 8 PM and last for one hour.
In line with the current Covid-19 regulations, the outdoor venue of the shows will be the courtyard of the Tbilisi Opera and Ballet Theater (entrance from Revaz Laghidze Street).
Details about reservation options and online tickets for the event will be announced soon.
"Dear friends, we are so excited to share with you that the State Ballet of Georgia is ready to welcome you back to the Ballet – in a different setting, and certainly following all Covid-19 regulations and recommendations. Nina Ananiashvili and the Ballet Company and Administration have been working hard to find new ways to make ballet performances a part of their beloved audience's life again.
"Please join us and enjoy this light-hearted ballet full of much-needed optimism!", reads the statement of the Friends of the Georgian Ballet (FGB) Committee.
By Ana Dumbadze
05 October 2020 12:06