Meet the Artists: Gia Gugushvili & Keti Matabeli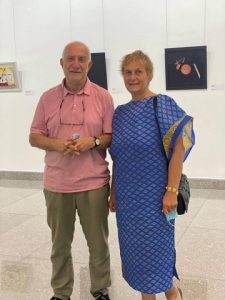 Interview
Continuing its collaboration with BI Auction, GEORGIA TODAY is proud to present yet another artistic couple, very important to Georgian art scene: Rector Gia Gugushvili, and Keti Matabeli. Read on to find out what inspires and moves them, Keti's interesting future plans, Gia's take on the role of painting in the contemporary art world, and more.
Who first introduced you to art? How and when did you start painting?
Keti: My parents introduced me to art and I have been painting since I was a kid.
Gia: My father was a professional painter, so my introduction to the world of art happened naturally.
Who had the biggest impact on your work early on in your career? Do you have a favorite artist/movement?
Keti: My art teacher Guram (Khita) Kutateladze was the first big impact I had.
Gia: It was my teacher of painting and composition, Valentin Sharpilov. My favorite art movements have been for a long time impressionism and renaissance.
How important do you deem professional education in shaping an artist?
Both: I believe professional education is crucial for a painter.
Have you had to overcome any challenges in your pursuit of art?
Keti: Not really, not something I'd call a challenge anyway.
Gia: The education process for an artist is always full of challenges. There are highs and lows and lots of disappointments. The foundation of success in this field is hard work.
Could you tell us of the advantages and disadvantages of living with a fellow artist?
Keti: I only see advantage of it: my husband is a famous and outstanding artist. That is happiness.
Gia: My wife is a painter and the 40 years we have spent living together have turned out to be more interesting that I first expected. My kids got splendid masterclasses, at least!
What would you say about the contemporary Georgian art scene?
Keti: I think positively of it. The Georgian contemporary art scene carries international importance.
Gia: I believe the Georgian art scene is so unique that it leaves no room for having a discussion about its importance. The contemporary art scene in the country honorably continues the tradition of art in Georgia.
What is your biggest inspiration today?
Keti: My biggest inspirations currently are the Bible and Shota Rustaveli's 'The Knight in the Panther's Skin.'
Gia: The biggest inspiration often depends on the environment and the circumstances. For me, personally, the most basic and common source of inspiration comes from music.
What do you think art's main mission is?
Keti: To raise humanity spiritually.
Gia: I think that art is very meditative and should be in the service of your inner calling, which is later reflected in the culture.
What are your future plans?
Keti: Illustrating the Bible and establishing a theater for the blind: "The Ray Theater."
Gia: I just plan on continuing to paint. I have never tried anything else, you know, I have always been painting, and always will, it's not exactly a choice.
The modern art scene is ever-changing. What is the future of painting in this reality?
Keti: Time brings new perspectives and perceptions; youth should seek new experiences. It is all happening as it should.
Gia: The painter has no future. They are always an artist and always in the future as they feed on the past and the historical experience. The painter is not distanced from the contemporary art. They are themselves in the avant-garde of the modern art.
Do you have any advice for artists just starting up?
Keti: Just that they should learn with love and work a lot.
Gia: They should work without sparing themselves, and get educated professionally, as well as about general topics.
What do you think art auctions in general, and BI Auction in particular, play in promoting art?
Gia: I think BI Auction is very important for young artists as it gives them a chance to really see themselves and establish themselves in the art field.
About BI Auction 'for ART': BI Auction is the first Art Auction Company of Georgia, established in 2016. The company's aim is to promote Georgian art and artists and enlarge the market. In four years, BI Auction 'for ART' has organized eight auctions and presented more than 450 paintings from 125 Georgian painters. In every auction, the collection is selected from among a thousand paintings from the well-known legendary artists of Georgia and also from promising young artists. For more information, please contact biauction1@gmail.com
By Nini Dakhundaridze

08 October 2020 17:53