Rusudan Zviadadze, Inspiring Discovery
Rusudan Zviadadze is a Georgian painter of unique artistic mentality and style who was introduced to art at an early age by her father, who, though by profession was not an artist, admired painting and encouraged Rusudan to fall in love with this colorful world. Later in life it was her father-in-law, a sculptor, who impacted her artistic perception and expression.
Rusudan has participated in many exhibitions, in and out of Georgia. "The exhibition viewers are always different everywhere and they react to pieces differently," Rusudan tells GEORGIA TODAY. "The artwork does not look the same in the exhibition space as it did in the studio. With exhibitions, an artist engages in dialogue with society. If I feel that I've sparked an interest in society through my work, I always get inspired and find myself in a whirlpool of new ideas."
"How long can this interview be?" Rusudan inquires, when I ask her about her favorite painters: she can't name just one, and says the history of art in its entirety has impacted her painting style, though she speaks especially dearly of Albrecht Dürer, the German Renaissance painter. Anselm Kiefer, David Hockney, Damien Hirst are honorably mentioned from contemporary artists. She contextualizes every style and epoch of painting, appreciating it for what it was, still not being able to identify one of them that has affected her artistic approach the most.
Her diverse taste in painting styles is well reflected in her works: they vary between impressionism, still life and postmodernism, often uniting elements of all three. Some themes in Rusudan's artworks are recurring, like plants and interior objects, but not only.
"I like to work on series," she explains, "I usually never know how many works there will be in the series before I begin working: I like to make it up as I go, make decisions in the working process. For example, I made the series titled 'Unbreakable Contact,' which was exhibited in the Baia's Gallery, and it was inspired by famous ancient artworks. I took the silhouettes from these works and put them in totally different contexts, making them a part of the painting experiment."
Rusudan finds inspiration in everyday life. It's usually details, mostly taken for granted, that become her muses: the weather, a good morning, the sound of music from her son's bedroom, traveling, new sensations, etc. She is currently thinking about several projects but is not ready to make anything public yet.
"That's the hardest part: when you're thinking about something and are completely absorbed by it, so much that the problems of the outside world become secondary. When you find the form, the details come easy: choosing colors, selecting lines," Rusudan reveals.
The Soviet Union strained and affected many artists. Rusudan was not one of them. "I did not have a professional interest in painting when the USSR was nearing its collapse, nor sometime after it had happened. So I never had that tête-à-tête against the regime," she explains.
Having never lost her freedom of expression in her art, Rusudan values liberty and says that, although no times come without trouble, not being repressed by censure is the condition in which an artist can really flourish. She connects the very goal of art to the idea of freedom.
"Art's mission is to reflect the universe in an interesting and outstanding way. For this, the artist needs to be free, and this freedom should never be restrained," she says.
This freedom comes with responsibilities, though, she notes, telling us that becoming an artist cannot be fulfilled by merely developing your painting technique. "Being educated about the world, other fields and disciplines is crucial for discovering yourself in art and deciding what it is that you want to tell the world through it," she states.
What she herself wants to tell the audience through her pieces is simple, and like most simple things, genius. "I want to share the inspiring discovery that moved me enough to make me want to transfer it onto the canvas," Rusudan shares. The genius is what is the "inspiring discovery" – the thing itself or the feeling it awakened? Ceci n'est pas une pipe.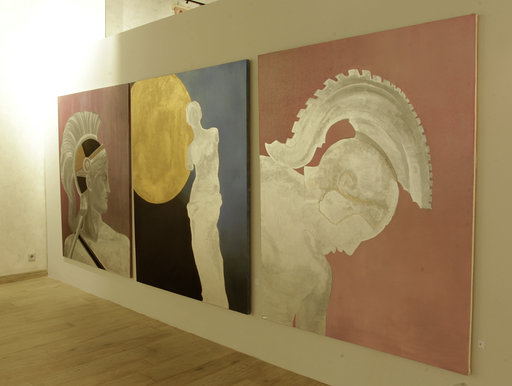 By Nini Dakhundaridze
08 October 2020 18:01