State Ballet Performs Don Quixote in the Opera House Courtyard
Last Thursday, Friday, Saturday and Sunday, the State Ballet of Georgia brought ballet back to its eager Georgian and ex-pat fans in an exciting new open-air style that it is hoped will be revived again in future, weather permitting.
The clever folks at the company, which is directed by Prima Ballerina Nina Ananiashvili, sought to overcome the financial and demoralizing restrictions of the COVID-19 era by offering an abridged version of Don Quixote in the rear courtyard of the Tbilisi Opera and Ballet State Theater. Under a star-lit sky, green fences blocked the view of passersby to the stage, which was wonderfully illuminated and colorfully decorated with flowers, amphora and the giant windmill that has come to symbolize the story of Don Quixote: this and the subsequent dancing bringing the warmth of Spain flowing out off the stage to embrace the carefully distanced audience. Indeed, all safety measures were adhered to, following official recommendations: two-meters distance between seats, masks to be warn correctly, temperatures checked and hands disinfected on entrance.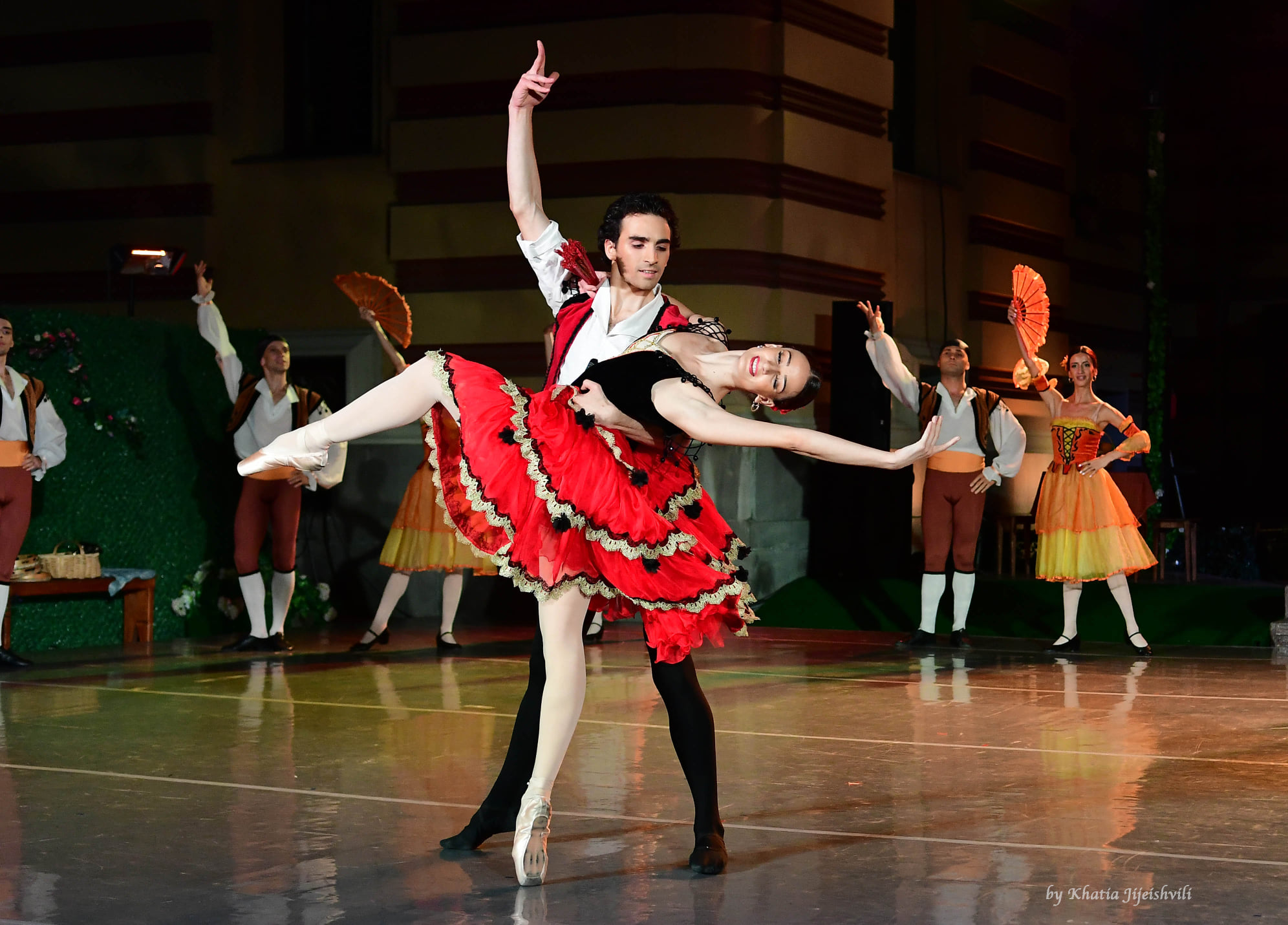 The plot of Don Quixote revolves around the adventures of a noble from La Mancha named Alonso Quixano, who reads so many chivalric romances that he loses his mind and decides to become a knight-errant to revive chivalry and serve his nation, under the name Don Quixote de la Mancha. He recruits a simple farmer, Sancho Panza, as his squire on his real and imaginary knightly quests. During their travels, the protagonists meet innkeepers, goat-herders, soldiers, priests, escaped convicts and scorned lovers.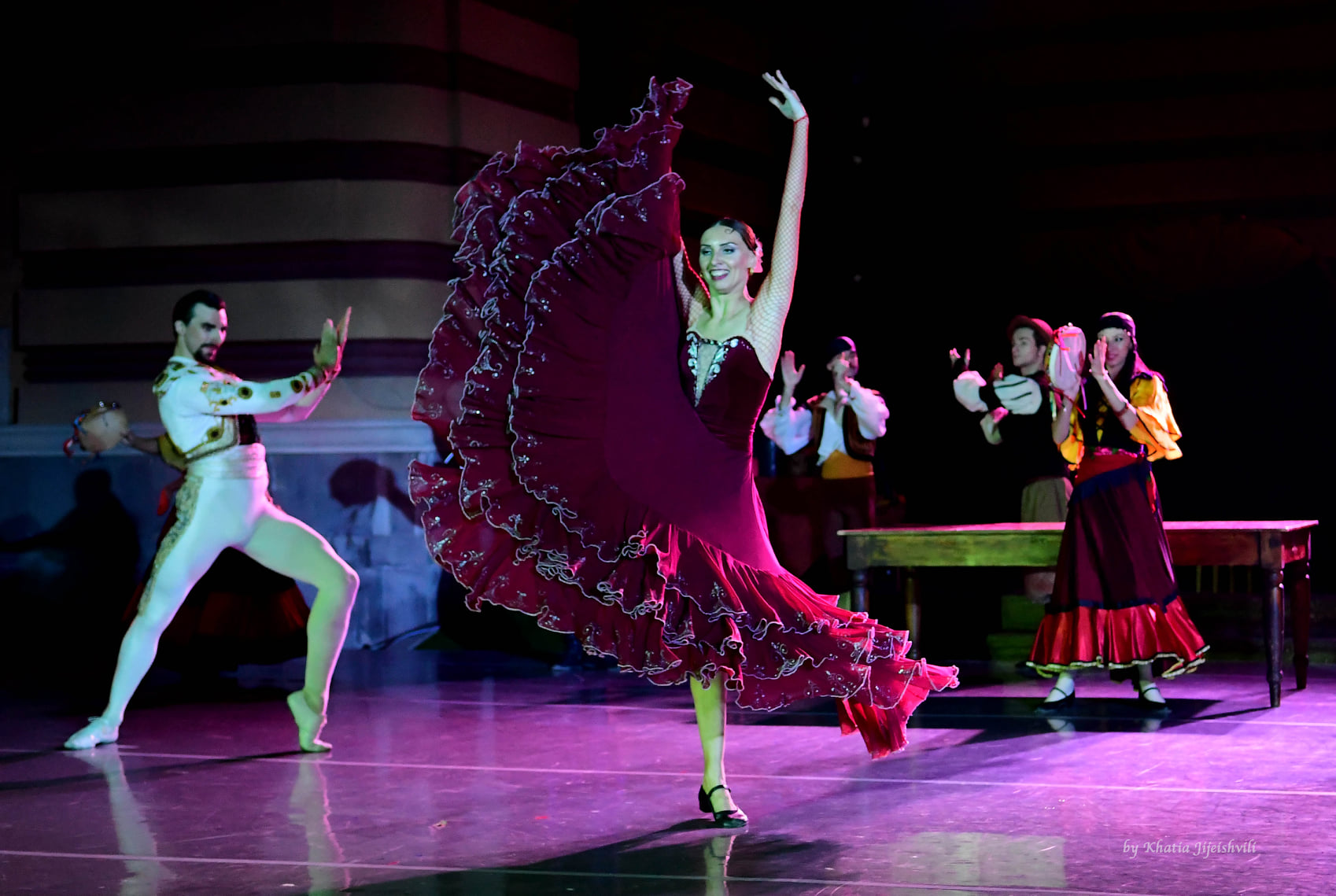 Of course, following the regulations of the new coronavirus reality, a full performance with interval was not allowed; instead the essence of Don Quixote was crammed into an enchanting 45 minutes of swirling passion, jealousy, celebration and newly formed friendships. In fact, Don Quixote and his companion Sancho (played by Kakha Andriadze and Irakli Jeladze, respectively) featured only briefly in the performance, which instead focused on the wandering eyes of Basilio (Philip Fedulov) and the playful Chelita/Kitri (Nutsa Chekurashvili), accompanied by the fleeting entrances of Lucia (Tata Jashi), Espada (Andrii Havryliuk), Mercedes (Vika Kikabidze) and Cupid (Ana Ksovreli), with Nino Samadashvili and Papuna Kapanadze (Papuna's debut) in Kitri's and Basilio's roles on alternative performance nights.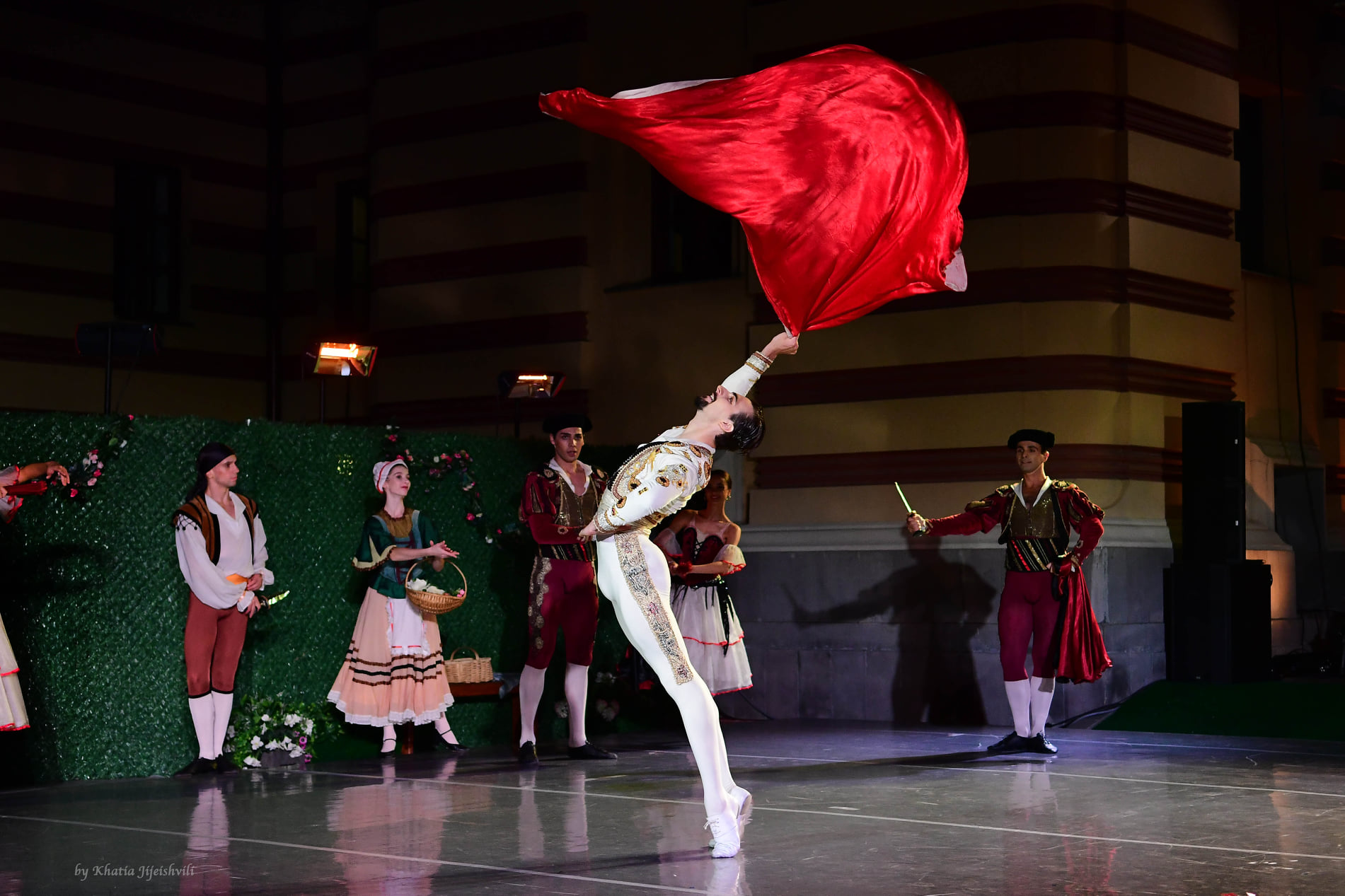 A delight to be a part of and hopefully something of a new tradition, the open-air performance of Don Quixote was a joy to all seated around me; a break from the stress of the everyday and a reminder that Georgian ballet is still going strong!
"We'd like to express our gratitude to the Ambassador of Japan to Georgia H.E. Tadaharu Uehara," Friends of the Georgian Ballet representatives said. "Also to Lexus for supporting this event. Actually Lexus' official dealership, Lexus Tbilisi, was opened in Georgia just a couple of years ago and we are really happy to have this famous brand as a partner for such an outstanding initiative. In fact, it can be said that the Lexus brand reflects kind of similarity with Georgian ballet company's philosophy: attention to detail for a perfect performance and seeking utmost quality in each and every aspect."
If you are a fan of ballet, you may be interested in joining the 'Friends of the Georgian Ballet,' a non-profit organization founded in 2006. It aims to support the initiatives of the State Ballet of Georgia under the artistic directorship of Nina Ananiashvili, and so facilitate the process of development of ballet in Georgia.
The membership fee of FGB serves to provide funding for scholarships for promising young ballet students at the V. Chabukiani Choreographic School, and the participation of specially selected members of the Ballet Company in prestigious ballet competitions and masterclasses held around the world.
Since 2007, the FGB and Nina have awarded annual scholarships to selected students of the Ballet School based on talent and/or social need, while also supporting the participation of students and company dancers in international competitions and masterclasses.
1,200 GEL covers a full school year's tuition for one student (600 GEL per semester), which is the only institution in Georgia that raises professional ballet artists. The curriculum includes all academic subjects, as well as classical dance, Georgian dance, historical, modern and character dances, and special courses in rhythmics, acting, and stretching techniques.
Members of the FGB get invitations to special events, performances and rehearsals- an exciting behind-the-scenes look at the world of the State Ballet Company and its multi-national dancers. They also have reserved seats at each performance to guarantee they don't miss a second of the magic.
Find out more here: friends.georgianballet@gmail.com
By Katie Ruth Davies
Image by Khatia Jijeishvili
22 October 2020 16:04