Remembering Pridon: Ushguli, Svaneti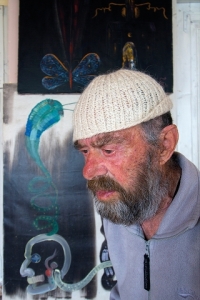 BLOG
My first encounter with Ushguli's great Pridon Nizharadze was by video in the early 2000s, a production of Marseilles TV showcasing Europe's highest village. In it, he displays his art and offers his watchtower for sale: price $1 million. No takers, unfortunately. For the art, however, plenty of interest. Now that he has passed away at age 76, there will be plenty of retrospective on his life and utterly unique paintings.
I also saw Pridon a few times when I lived in Ushguli and taught English during the winters of 2007-9; though for part of that time he was based in Tbilisi. One of his roles in the village was, for a while, overseer of the main museum, housed in a short fat tower in Chazhashi hamlet. This institution is filled with a sampling of the many treasures either produced in Svaneti or sent and stored there for safekeeping over the centuries, far away from the frequent marauders ravaging the country from all sides. Mestia has more, but the collection in Ushguli is definitely not to be overlooked either.
I finally saw him in summer of this year, while on a walk encircling all of Svaneti (Upper and Lower both) starting and ending in Etseri, where I live. For a while he had been in decline, and his brother with whom he lived was acting as his guardian and go-between for the occasional curious visitor who might unwittingly disturb things simply by appearing. We, too, were potentially in this category; although I also counted him as a friend and fellow artist.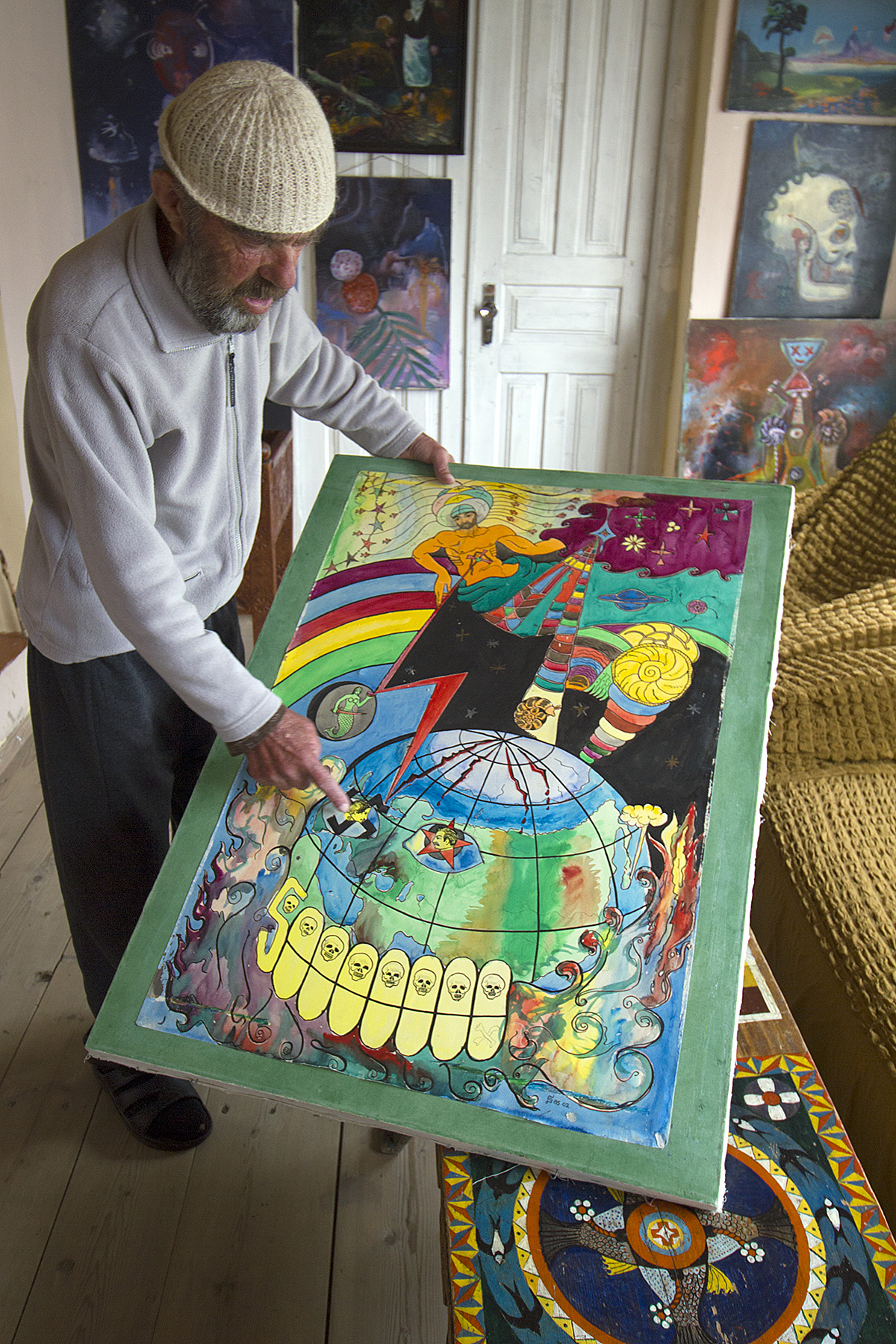 Pridon told me then that he had a feeling he was to die that very night. I expressed my doubt that this would happen, and we prayed together for God's peace to be on him, instead of such nightmares. He signed a postcard each for me and two of my friends who were there with me.
On the 16th of November, the day before the funeral, I drove my 4x4 to Ushguli to offer my deep condolences to the family and local friends of Pridon. There had been a bad rock-fall near the village, and I had to wait with a few other vehicles as a large Caterpillar and bulldozer cleared the rotten, still falling slate towards the Enguri River and flattening out a makeshift path for us to dare to drive across.
They are currently widening the whole road, which has already been cemented all the way between Mestia and K'ala, the last village before Ushguli. This few km which remains is narrow, steep, and treacherous, often beset with avalanches in winter and spring, and rock-falls possibly in any season. The snow had not yet come (that would be today, as I write this), but there was frost on the ground and a noticeable chill in the air. I was glad to have missed the bad weather and the other possible adventures of this road, but people do drive on it every day in both directions, so it is doable!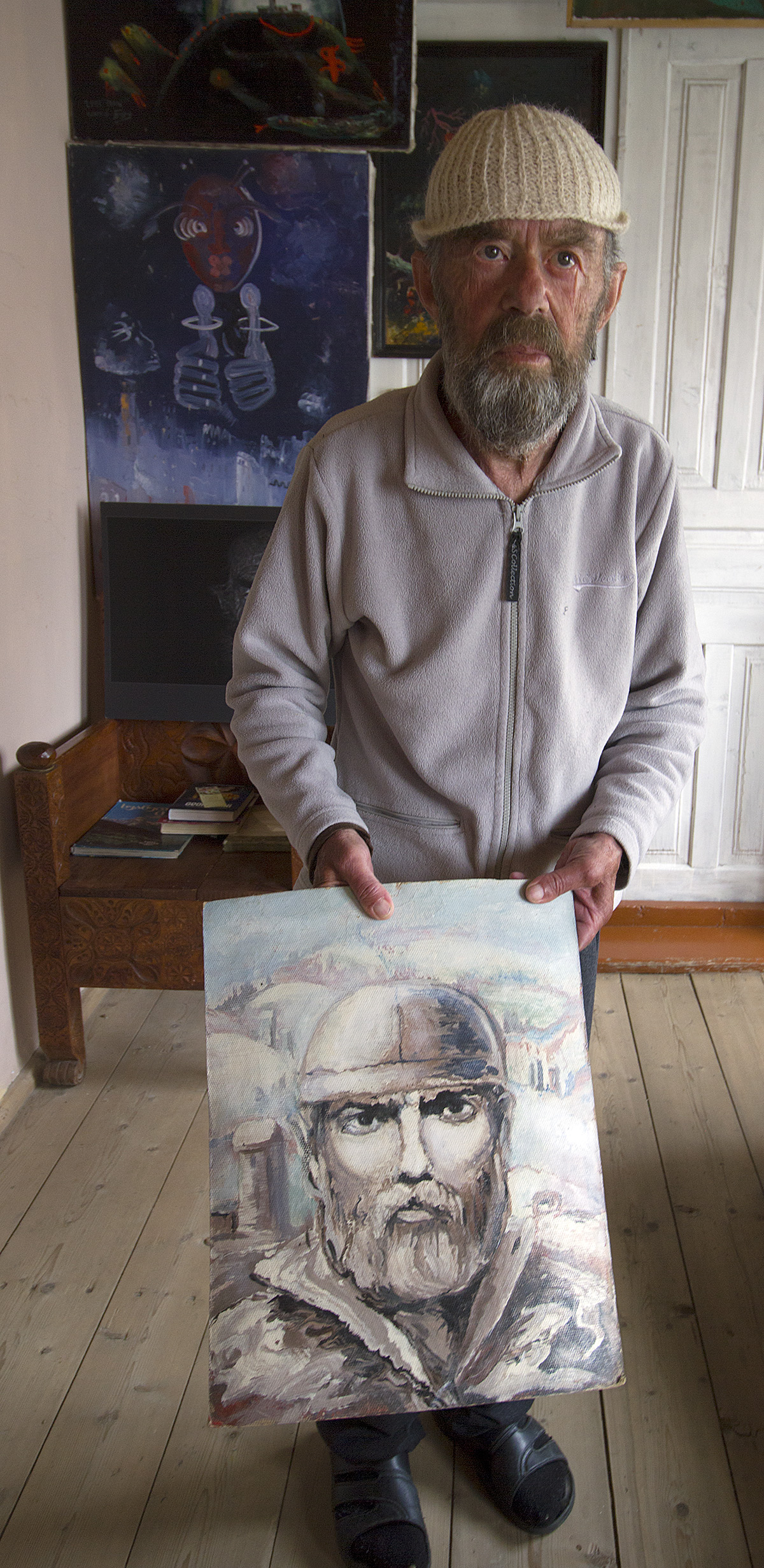 Pridon's work over decades has featured both realism, in his landscapes and views of Ushguli, and surrealism of a style no one else can claim. He had much to express about communism, fascism, and the prevailing problems of his decades in the USSR, as well as cosmic visions and symbolic juxtapositions. He was also diagnosed with schizophrenia for many years, possibly as a punishment for his anti-communist stance. Whether he had it or not, his thought processes certainly were challenging to follow. In many of his works, disparate objects are combined to make new forms far from the meaning of the components, and one must puzzle out the meanings of both parts and whole, especially when these are multiple or set thematically against one another. It is a rewarding process when you think you have succeeded in decoding a piece; although, can you be sure?
I expect that now, with his passing, Pridon Nizharadze's reputation will only grow as that of a national treasure of Ushguli, Svaneti, and all Georgia. I long to see another proper exhibition of much of his work gathered in one place, in either Mestia or Tbilisi, and the printing of a large book detailing his life and paintings. He deserves this. His work must be properly preserved as well, either if his house is set up as a permanent museum to him, or elsewhere. He might be gone, but through his art he will always have a message for us all, concerning both the past and the future.
By Tony Hanmer
Tony Hanmer has lived in Georgia since 1999, in Svaneti since 2007, and been a weekly writer and photographer for GT since early 2011. He runs the "Svaneti Renaissance" Facebook group, now with nearly 2000 members, at www.facebook.com/groups/SvanetiRenaissance/
He and his wife also run their own guest house in Etseri: www.facebook.com/hanmer.house.svaneti
19 November 2020 17:19