H.E. Sophie Katsarava: "Building Trust Comes from Believing in What You Do"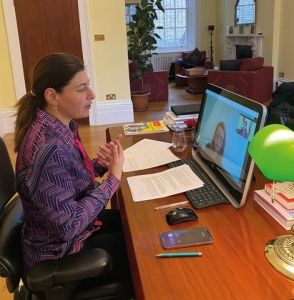 Interview
Last week H.E. Sophie Katsarava, Georgia's Ambassador to the UK, was interviewed on her role, career history and what she wants to achieve, during an event co-hosted by PRCA, the world's largest industry body for public relations professionals, and Women in Public Affairs, a UK based body for females in the lobbying industry.
Tell us about your current role.
As Georgia's Ambassador to the UK, my key role is to represent my government in the UK towards key strategic objectives. These include enhancing cooperation in security, defense, trade and economy. and building on on the substantial achievements we have made so far. I work to build on the friendship between our countries, which remains as strong and important as ever.
A key part of my role is working with the UK to identify shared interest and common ground. We want to raise the country's profile and to tell as many people as possible what Georgia stands for, what we believe in, as well as explaining our challenges opportunities and aspirations.
We aspire to be a member of the EU and NATO, continuing to develop our country so that it becomes a fully-fledged member of the western community. As a nation with 20% of its territory occupied, we cooperate closely with our strategic partners on security challenges. Security is an area that unites us, and we work to identify new opportunities to work together in future.
We have a set of ambitious goals to promote and develop our country. Georgia has seen impressive development in recent years, and have a strong future alongside the western community to which we have never been closer.
How did your career history assist your current role?
I spent many rewarding years working with the British Embassy in Tbilisi, and through working closely with multiple ambassadors, I witnessed first-hand the power of diplomacy and communications in international relations. Subconsciously, I think even back then, I knew this was what I wanted to do.
Entering parliament in 2016, I became Chair of the Foreign Affairs Committee. I was Georgia's ambassador to many countries, and met many people in many different formats. In that role, it is so important that the international community understands the challenges that we face and that they support us as we develop. My communications experience greatly contributed to my success in this role.
My experience is an added bonus to my current role here in Britain. A diplomat has to be able to truly understand the country they are in. My experience helps me to understand the UK's priorities and policies, and helps make our relations as positive as possible.
What are the preconceptions of Georgia, and how do you overcome them?
The less you know about the country, the more misconceptions you might have. My role in the UK is to educate my contacts, key stakeholders and new acquaintances about Georgia.
Many view us as a country in conflict. However, this goes beyond our territorial integrity; it's important that everyone I meet understands how real people and families are suffering through conflict. We're pursuing an agenda of reconciliation, and we see this as the resolution to the security challenge. We're doing everything we can to contribute to stability in the country, in the region, and beyond. Our stability is intrinsically linked to our prosperity, and ultimately the prosperity of our citizens.
Overall, Georgia is a safe, stable country for British businesses to invest in. We should use the opportunity of the Free Trade Associations (FTAs) to enhance cooperation in trade and industry. In normal times, we host many tourists from the UK. But in the absence of international travel, I can work to increase the level of understanding so that the perceptions of Georgia are about right.
How has the role of women progressed in Georgian politics?
I'm always very passionate about the topic of women in politics, an industry that is very male dominated. Many people don't know that Georgia has a strong tradition of female MPs; 100 years ago, when we had the first Democratic Republic of Georgia, five women were elected to the national assembly. At that time, women in some European countries didn't even have the right to vote!
We're in no way perfect on gender representation, but we've made considerable strides so far. We have a female President for the first time, and women are in key positions as MPs, Ministers and Chairs of many committees - like I was. Their visibility provides a strong example to young women.
However, Georgia is in no way complacent. The parliament has adopted recent legislation on gender, and there is a full acknowledgement and understanding of the importance of women's role in politics.
Women should not be discouraged from taking an active role in the political process. We should be confident about our position and the fact that we will make a difference. Do what you believe in, be dedicated, and be passionate about what you do.
What were the challenges of arriving during lockdown?
When I was nominated for the role, there were no signs of the pandemic whatsoever, but it had overwhelmed everyone's agenda by the time I arrived! But, again, we tried to focus on the silver lining.
In eight months, we have accomplished a lot. Our number one priority is looking after our citizens, but on the political front, we're business as usual: simply switching to the virtual world. In 2020, we still hosted the UK-Georgia Wardrop Strategic Dialogue, an annual platform for us to discuss all areas of strategic direction. Our Prime Minister took part when the UK hosted the Global Vaccine Summit (GAVI) 2020. On business, we signed an MoU with the London Chamber of Commerce on trade, and we created the first ever virtual trade hub!
It's been a difficult time and a steep learning curve. Yet, we have to adjust to the new reality: there have been some great opportunities and the situation inspires some creative ideas!
What do you want to achieve in your time as Ambassador?
My daily work is quite intensive, and everything is aimed towards long-term objectives, even if they don't have tangible results today.
However, when I look back, I want to have gone beyond agreements on paper. I want to raise Georgia's profile so that we have many champions of Georgia across the country. I hope to have contributed to an improved understanding and perception of our country in the UK.
What is your advice to young people entering politics?
Believe in yourself, be determined about your job, be consistent, and be passionate about what you do. That sums up my approach to every job and the people I work with.
The other day, I came across Sir Henry Wotton's quote: "An ambassador is an honest gentleman sent to lie abroad for the good of his country." However, my philosophy is the reverse; I think that building trust comes from believing in what you do, whether this is diplomacy or politics. It's only through this you can pursue your career with confidence.
Eleanor Kramers of FTI Consulting, is co-chair of the PRCA Emerging Market Group alongside George Morris Seers. Laura Sainsbury, Chair of Women in Public Affairs, introduced the event.
By Eleanor Kramers
24 December 2020 19:30